Ultra
High-Temperature

Molybdenum Foil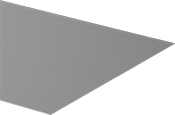 Hardness:




1/2"

Width:

Rockwell C59

(Very

Hard)




6"

and

12"

Width:

Rockwell C19

(Medium)
Thin and easy-to-cut, this 99.95% pure molybdenum foil is often used in parts that process molten glass, heat shields in furnaces, and as filament supports in high-intensity light bulbs. Also known as refractory metal, it has a higher melting point than most metal. Molybdenum is roughly nine times more thermally conductive than Kovar nickel alloy, so heat passes through and moves away from the material quickly. It also has a low coefficient of thermal expansion, about half that of most steel, which means it won't deform when exposed to an increase in temperature. However, molybdenum is denser than Kovar nickel alloy and steel. Known for conducting heat and electricity better than tantalum and platinum, it's often used as semiconductors in motors and power supplies and parts in solar cells.
This material resists oxidation at temperatures below 750° F but will rapidly oxidize when exposed to air above 1400° F, making it ideal for high temperature vacuum environments. It also resists corrosion from acids as well as molten materials such as metal, alloys, and glass compounds. However, it will corrode from alkalis when it starts to oxidize.
For technical drawings and 3-D models, click on a part number.

Certificates with a traceable lot number are available for these products. Download certificates from ORDER HISTORY after your order ships.
Thickness
Thickness Tolerance
Melting Point


Temperature,

°F

Each
0.005"
-0.00005" to 0.00005"
4753°
0000000
000000
0.005"
-0.00005" to 0.00005"
4753°
0000000
000000
0.005"
-0.0009" to 0.0009"
4730°
0000000
000000
0.01"
-0.003" to 0.003"
4730°
0000000
000000
0.02"
-0.003" to 0.003"
4730°
0000000
000000
0.03"
-0.003" to 0.003"
4730°
0000000
000000
0.005"
-0.0009" to 0.0009"
4730°
0000000
000000
0.01"
-0.003" to 0.003"
4730°
0000000
000000
0.02"
-0.003" to 0.003"
4730°
0000000
000000
0.03"
-0.003" to 0.003"
4730°
0000000
000000
0.04"
-0.003" to 0.003"
4730°
0000000
000000
0.005"
-0.0009" to 0.0009"
4730°
0000000
000000
0.01"
-0.003" to 0.003"
4730°
0000000
000000
0.02"
-0.003" to 0.003"
4730°
0000000
000000
0.03"
-0.003" to 0.003"
4730°
0000000
000000
0.04"
-0.003" to 0.003"
4730°
0000000
000000