Motorized Platform Trucks
Move heavy materials without the physical stress of pushing and pulling. These trucks operate on a rechargeable 24-volt battery that runs approximately 6 hours per charge.
Trucks have a variable-speed switch, controls for forward and reverse, and an emergency stop button and horn on the handle.
They have a mix of pneumatic and solid rubber wheels for a smooth ride over the roughest surfaces.
They cannot be sold to California or Oregon due to energy efficiency requirements.

O'all




Cap.,




lbs.

Lg.

Wd.

Ht.

Handle


Ht.

Wheel
Configuration

Dia.

Material
Assembled
or
Unassembled
Features
Cannot
Be
Sold To
Each
1,500
61"
25

1/2

"
11

1/2

"
40"
Four Swivel Casters and Two Axle-Mounted Wheels
5"/8

3/4

"
Rubber
Assembled
Emergency Stop Button, Horn
CA, OR
0000000
000000000
Dia.

Wd.

Mount


Ht.

Cap.

per


Caster,

lbs.

Wheel/Tread


Material
Frame Material
Caster
Type
Each
5"
2"
6

1/2

"
500
Rubber
Galvanized Steel
Swivel
0000000
000000
Battery-Operated

Lift Trucks with Platform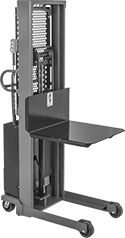 Platforms support material directly without an additional pallet. A hydraulic pump powered by a rechargeable battery raises and lowers loads with the push of a button. A charge indicator lets you know how much battery life is left. The push-button control has a self-retracting cord. Two swivel casters at the rear of the lift truck makes steering and pivoting easy. Once the truck is in place, engage the floor lock to lift and lower loads. They have nonmarking phenolic wheels that roll best on smooth surfaces.
Warning: Never use to lift people.
O'all




Cap.,




lbs.

Ht.

Lg.

Wd.

Load
Center

Lg.

Ht.

For
Pallet


Wd.

Handle


Ht.

Inside
Spread
Outside
Spread
Wheel
Configuration

Dia.

Material
Type
Specifications
Met
Each

Steel Body

2,000
6"-5'8"
24"
27"
15"
3'2"
6'11"
26"-40"
52"
20"
26"
Two Swivel Casters and Two Axle-Mounted Wheels
5"
Phenolic Plastic
Solid
ASME B56.10
0000000
000000000