About Electric Motors
When replacing a motor, use the information on your motor's nameplate to guide your selection.
Base/Face-Mount

DC Motors
With two location options for any-angle mounting, you can put these motors to work in a variety of equipment configurations. Motors are rated for continuous duty and have a keyed shaft that comes with key stock. Wire for clockwise or counterclockwise rotation; instructions are included.
Use a motor speed control (not included) to adjust motor speed. Use an AC to DC transformer (not included) to convert AC power to DC power.
For technical drawings and 3-D models, click on a part number.
Base/Face-Mount DC Motors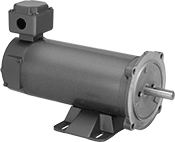 Motor with TENV Enclosure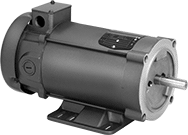 Motor with TEFC Enclosure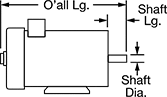 Power,


hp
Speed @
Continuous
Operating Torque

Max.




Speed,


rpm
Starting


Torque,




in.-lbs.

Full Load


Current,


A
Motor
Enclosure
Type

Lg.

Wd.

Ht.

Dia.

Lg.

Center
to
Base
Base
Type
Class

Max.




Temp.,




° F

Each

180V DC

1

1/2

1,750 rpm @ 54 in.-lbs.
1,819
706.6
6.8
Totally Enclosed Fan Cooled (TEFC)
16

1/2

"
7

1/4

"
8"

7/8

"
2

1/4

"
3

1/2

"
Removable
F
311°
0000000
000000000
2
2,500 rpm @ 50.4 in.-lbs.
2,514
2,135.5
10
Totally Enclosed Fan Cooled (TEFC)
16

1/2

"
7

1/4

"
8"

7/8

"
2

1/4

"
3

1/2

"
Removable
F
311°
0000000
00000000

1/4

1,750 rpm @ 9 in.-lbs.
1,830
103.3
1.3
Totally Enclosed Nonventilated (TENV)
12

1/4

"
6

1/2

"
8

3/4

"

5/8

"
1

7/8

"
3

1/2

"
Removable
F
311°
0000000
000000

1/3

1,750 rpm @ 15.2 in.-lbs.
1,800
285.9
1.6
Totally Enclosed Nonventilated (TENV)
13

1/4

"
6

1/2

"
8

3/4

"

5/8

"
1

7/8

"
3

1/2

"
Removable
F
311°
0000000
000000

1/2

1,750 rpm @ 18 in.-lbs.
1,880
509.2
2.5
Totally Enclosed Nonventilated (TENV)
15"
6

1/2

"
8

3/4

"

5/8

"
1

7/8

"
3

1/2

"
Removable
F
311°
0000000
000000

3/4

1,750 rpm @ 27 in.-lbs.
1,985
350.3
3.7
Totally Enclosed Fan Cooled (TEFC)
14

3/4

"
6

3/4

"
7

1/2

"

5/8

"
1

7/8

"
3

1/2

"
Removable
F
311°
0000000
00000000
1
1,750 rpm @ 36.6 in.-lbs.
1,870
485.6
5
Totally Enclosed Fan Cooled (TEFC)
15

1/2

"
6

3/4

"
7

1/2

"

5/8

"
1

7/8

"
3

1/2

"
Removable
F
311°
0000000
00000000
Replacement Carbon Brushes
Replacement Carbon Brush