About Paint and Protective Coatings
Noncorrosive Gel Rust Removers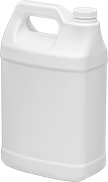 Use this thick gel to remove rust from vertical surfaces. Removers are safe for contact with sensitive surfaces, such as copper, brass, aluminum, and plastic. They're low odor and contain no VOCs, so they can be used in enclosed and occupied areas. Brush them onto rusty surfaces; after an hour or two, rinse the rust and removers away with water.
Container


Size,

fl.

oz.

Composition

Approx.




Coverage,

sq.

ft.

For
Removing
Each
8
Water Based
5
Rust
0000000
000000
Naval Jelly Rust Removers

Dissolve rust on iron and steel. Apply jelly with a brush or sprayer, leave it on for 5 to 10 minutes, and then rinse with water.
Container


Size,

fl.

oz.

Composition

Approx.




Coverage,

sq.

ft.

For
Removing
Each
16
Solvent Based
75
Rust
0000000
00000