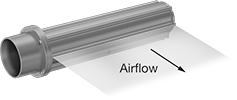 Use with a blower for high-speed airflow at low pressure. Air knives create a sheet of high-velocity air for drying and cooling parts, wiping conveyor belts, controlling coating depth, and blowing liquids, chips, and dust from equipment.
A complete system requires a pipe nipple reducer, flexible duct hose, and hose clamps (all sold separately). Connect your blower to the duct hose using the reducer and clamps, and then attach the air knife.
For technical drawings and 3-D models, click on a part number.
Single Stage Blower
Optional Single Stage Blowers

Slot


Wd.

Slot


Dp.

OD

O'all




Wd.

For Air
Inlet
Hose ID
Air
Inlet
Gender
Each
Pipe
Size

Pipe
Connection
Gender
Each

Aluminum

6"

1/32

"-

7/64

"
3

7/8

"
8

19/32

"
3"
Male
00000000
0000000
1

1/2

NPT
Female
0000000
000000000
12"

1/32

"-

7/64

"
3

7/8

"
14

19/32

"
3"
Male
00000000
000000
2

NPT
Female
0000000
00000000
18"

1/32

"-

7/64

"
3

7/8

"
20

19/32

"
3"
Male
00000000
000000
2

NPT
Female
0000000
00000000
24"

1/32

"-

7/64

"
3

7/8

"
26

19/32

"
3"
Male
00000000
000000
2

1/2

NPT
Female
0000000
00000000
30"

1/32

"-

7/64

"
3

7/8

"
32

19/32

"
3"
Male
00000000
000000
2

1/2

NPT
Female
0000000
00000000
36"

1/32

"-

7/64

"
3

7/8

"
38

19/32

"
3"
Male
00000000
000000
2

1/2

NPT
Female
0000000
00000000
Reducers for 3 7/8" OD Air Knives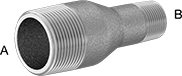 Reducer
For
Use
With
Schedule

(A)

(B)

Length

(A)

(B)

(A)

(B)

(A)

(B)

Thread
Type
Material
Specifications
Met
Each
Air, Nitrogen Gas, Oil, Steam, Water
80

2

1/2

1

1/2

7"
2

7/8

"
1

29/32

"
2.323"
1.5"
0.276"
0.2"
NPT

Galvanized Iron
ASME B1.20.1, ASTM A234, MSS SP-95
00000000
0000000