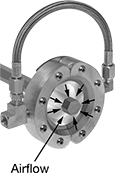 Use a 360° airstream to blow off, dry, clean, and cool tube, cable, extruded shapes, and hose. These knives are also known as air wipes. They conform to OSHA 29 CFR 1910.242 requirements for maximum air outlet pressure and OSHA 29 CFR 1910.95 requirements for noise. Volume (dBA) is measured 3 ft. from the air knife.
Shim sets (sold separately) install in the airflow slot to adjust the flow and force of air.
For technical drawings and 3-D models, click on a part number.
ID
OD
Air
Consumption

Volume,


dBA

Wd.

Ht.

Dp.

Max.




Temp.,




°F

Max.

Inlet


Pressure,


psi
Pipe
Size

Thread
Type
Gender
Specifications
Met
Each
Each

Aluminum

1/2

"
3

1/4

"
17 cfm @ 100 psi
75
5

15/16

"
8

3/64

"
1

1/8

"
400°
250

1/4

NPT

Female
OSHA Compliant 29 CFR 1910.242, OSHA Compliant 29 CFR 1910.95
0000000
0000000
0000000
000000
1"
3

3/4

"
23 cfm @ 100 psi
76
6

5/8

"
8

9/32

"
1

1/8

"
400°
250

1/4

NPT

Female
OSHA Compliant 29 CFR 1910.242, OSHA Compliant 29 CFR 1910.95
0000000
000000
0000000
00000
2"
4

3/4

"
36 cfm @ 100 psi
77
7

5/8

"
9

3/16

"
1

1/8

"
400°
250

1/4

NPT

Female
OSHA Compliant 29 CFR 1910.242, OSHA Compliant 29 CFR 1910.95
0000000
000000
0000000
00000
3"
5

3/4

"
48 cfm @ 100 psi
79
8

5/8

"
10

7/32

"
1

1/8

"
400°
250

1/4

NPT

Female
OSHA Compliant 29 CFR 1910.242, OSHA Compliant 29 CFR 1910.95
0000000
000000
0000000
00000
4"
6

3/4

"
61 cfm @ 100 psi
81
9

3/8

"
9

25/32

"
1

1/8

"
400°
250

1/4

NPT

Female
OSHA Compliant 29 CFR 1910.242, OSHA Compliant 29 CFR 1910.95
0000000
00000000
0000000
00000