About Grease Gun Components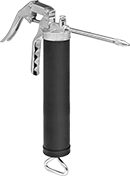 With Rigid Nozzle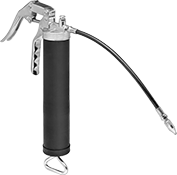 With Flexible Nozzle



Because of their one-hand operation, pistol-grip grease guns are easier to use for adding grease to hard-to-reach places than lever-grip guns.
Grease guns with Buna-N rubber dispensing tip are for applying grease to lubrication points without a grease fitting. Grease guns with brass dispensing tip have a needle to penetrate seals and gaskets and to dispense grease to precise locations.
Filler nipple (sold separately) is required to load guns using a bulk filler pump.
Cap.,




fl.




oz.

Strokes
per


oz.

For NLGI
Viscosity
Grade

Max.


Grease Outlet


Pressure,

psi

Lg.

Material
Dispensing
Tip
Material
Thread
Type
Pipe
Size

Gender
Loading
Method
Each

For Standard Grease Fittings

With Rigid Nozzle

14
40
0, 1, 2
5,400
6"
Steel
Steel
NPT

1/8

Male
Bulk Filler Pump, Cartridge, Hand Pack, Suction
0000000
000000

With Flexible Nozzle

14
40
0, 1, 2
5,400
12"
Nylon Plastic
Steel
NPT

1/8

Male
Bulk Filler Pump, Cartridge, Hand Pack, Suction
0000000
00000

For

5/8"

Dia.

Button-Head

Style Grease Fittings

With Rigid Nozzle

14
40
0, 1, 2
5,400
6"
Steel
Steel
NPT

1/8

Male
Bulk Filler Pump, Cartridge, Hand Pack, Suction
0000000
00000

With Flexible Nozzle

14
40
0, 1, 2
5,400
12"
Nylon Plastic
Steel
NPT

1/8

Male
Bulk Filler Pump, Cartridge, Hand Pack, Suction
0000000
00000

For

Pin-Style

Grease Fittings

With Rigid Nozzle

14
40
0, 1, 2
5,400
6"
Steel
Steel
NPT

1/8

Male
Bulk Filler Pump, Cartridge, Hand Pack, Suction
0000000
00000

With Flexible Nozzle

14
40
0, 1, 2
5,400
12"
Nylon Plastic
Steel
NPT

1/8

Male
Bulk Filler Pump, Cartridge, Hand Pack, Suction
0000000
00000

For

Flush-Style

Grease Fittings

With Rigid Nozzle

14
40
0, 1, 2
5,400
6"
Steel
Steel
NPT

1/8

Male
Bulk Filler Pump, Cartridge, Hand Pack, Suction
0000000
00000

With Flexible Nozzle

14
40
0, 1, 2
5,400
12"
Nylon Plastic
Steel
NPT

1/8

Male
Bulk Filler Pump, Cartridge, Hand Pack, Suction
0000000
00000
Cap.,




fl.




oz.

Strokes
per


oz.

For NLGI
Viscosity
Grade

Max.


Grease Outlet


Pressure,

psi

Lg.

Material
Dispensing
Tip
Material
OD
Gauge
Material
Loading
Method
Each

For Lubrication Point without Grease Fitting

With Rigid Nozzle

14
40
0, 1, 2
5,400
6"
Steel
Buna-N Rubber
__
__
__
Bulk Filler Pump, Cartridge, Hand Pack, Suction
0000000
000000
14
40
0, 1, 2
5,400
6"
Steel
Brass
0.058"
17
Stainless Steel
Bulk Filler Pump, Cartridge, Hand Pack, Suction
0000000
00000

With Flexible Nozzle

14
40
0, 1, 2
5,400
12"
Nylon Plastic
Buna-N Rubber
__
__
__
Bulk Filler Pump, Cartridge, Hand Pack, Suction
0000000
00000
14
40
0, 1, 2
5,400
12"
Nylon Plastic
Brass
0.058"
17
Stainless Steel
Bulk Filler Pump, Cartridge, Hand Pack, Suction
0000000
00000