Sanitary Air Knives for Blowers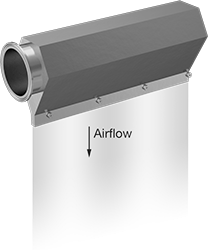 Dry and cool parts, wipe conveyor belts, control coating depth, and blow liquid, chips, and dust off of equipment in sanitary environments. Use these air knives with blowers and quick-clamp fittings to create a sheet of high-velocity air in food, beverage, and pharmaceutical plants. Made of 304 stainless steel, they won't corrode from frequent washdowns with harsh cleaners. A highly polished surface with continuous weld seams keeps out water and other contaminants to prevent bacterial growth. Since they connect with quick-clamp fittings—also known as tri-clamp fittings—they're easily disassembled for frequent cleaning. Blower-powered air knives produce air at a lower pressure than air knives that use compressed air. Control air pressure and volume by adjusting the depth of the airflow slot. These air knives have a through hole for mounting.
For technical drawings and 3-D models, click on a part number.
Slot
Width
Slot
Depth
Width
Height
Depth
Air Inlet
Flange OD
Mounting
Fasteners Included
Mounting Hole
Thread Size

Each

304 Stainless Steel

6"

1/32

"-

1/8

"
7

3/16

"
5

13/32

"
3

7/8

"
3.579"
No

3/8

"-16

00000000
0000000
12"

1/32

"-

1/8

"
13

3/16

"
5

13/32

"
3

7/8

"
3.579"
No

3/8

"-16

00000000
000000
18"

1/32

"-

1/8

"
19

3/16

"
5

13/32

"
3

7/8

"
3.579"
No

3/8

"-16

00000000
000000
24"

1/32

"-

1/8

"
25

3/16

"
5

13/32

"
3

7/8

"
3.579"
No

3/8

"-16

00000000
000000
30"

1/32

"-

1/8

"
31

3/16

"
5

13/32

"
3

7/8

"
3.579"
No

3/8

"-16

00000000
000000
36"

1/32

"-

1/8

"
37

3/16

"
5

13/32

"
3

7/8

"
3.579"
No

3/8

"-16

00000000
000000