Shower Heads
Concentrated heads produce one solid stream of water.
For adjustable heads, you can adjust the spray pattern from a solid stream to a full cone, or a full cone to pulsating or a combination of the two.
Heads that cannot be sold to Colorado are restricted by local energy efficiency requirements.
Style A, B, C, D, F, G, and H heads swivel for quick adjustment.
Style A, G, and H heads have a trickle valve that lets you change the spray pattern from a full cone to a trickle with the push of a button.
Style E heads come with an anchor plate and stainless steel screws for tamper-resistant mounting. Often used in public spaces, prisons, barracks, hospitals, and gymnasiums, they are hard to remove. For even more tamper resistance, use tamper-resistant one-way screws.
Style F and G heads are handheld shower heads. They come with a mount for attaching them to the wall. Place the heads in the mount for use as a traditional shower or remove them and hold them in your hand to direct the water where you want it. These heads also come with a hose that is required to connect the heads to your water source as well as the mount. How far you can move the shower heads is limited by the length of the hose. Style G heads also have a rubber grip to keep the heads from slipping out of your hand.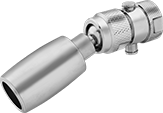 A

B

C

D

E

F

G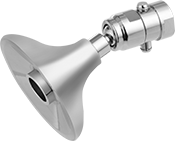 H
Spray
Pattern
Flow
Rate
Shower
Head


Dia.

Ht.

Wd.

Pipe
Size

Thread
Type
Gender

Dia.

Ctr.-to-Ctr.




Wd.

Ctr.-to-Ctr.




Ht.

Material
Features
Includes
Cannot
Be
Sold To
Each
Full Cone
1.8 gpm @ 80 psi
1"
__
__

1/2

NPS
Female
__
__
__
Chrome-Plated Brass, Stainless Steel
Trickle Valve
__
__
0000000
000000

Style

B—

Concentrated Head

Stream
1.5 gpm @ 80 psi
1

1/8

"
__
__

1/2

NPT

Female
__
__
__
Chrome-Plated Brass
__
__
CO
0000000
00000
Full Cone
1.8 gph @ 80 psi
3"
__
__

1/2

NPT

Female
__
__
__
Chrome-Plated Plastic
__
__
CO
0000000
00000
Full Cone, Stream
1.5 gpm @ 80 psi
1

1/2

"
__
__

1/2

NPT

Female
__
__
__
Chrome-Plated Brass
__
__
CO
000000
00000
Full Cone, Stream
1.5 gpm @ 80 psi
2

1/4

"
__
__

1/2

NPT

Female
__
__
__
Chrome-Plated Brass
__
__
CO
000000
00000

Style

E—

Concentrated Head

Stream
1.5 gpm @ 80 psi
1

1/4

"
3"
3

1/4

"

1/2

NPT

Female

3/8

"
2

1/8

"
1

1/2

"
Chrome-Plated Brass
__
Mounting Hardware
CO
00000000
000000
Full Cone, Pulsating, Full Cone/Pulsating
1.7 gpm @ 80 psi
2

3/4

"
__
__

1/2

NPS
Male
__
__
__
Chrome-Plated Plastic
__
5-ft. Lg. Stainless Steel Hose, Shower Head Mount
__
00000000
00000
Full Cone
1.8 gpm @ 80 psi
1"
__
__

1/2

NPS
Male
__
__
__
Chrome-Plated Brass
Rubber Grip, Trickle Valve
6-ft. Lg. Stainless Steel Hose, Shower Head Mount
__
00000000
000000
Full Cone
1.8 gpm @ 80 psi
3

1/4

"
__
__

1/2

NPS
Female
__
__
__
Chrome-Plated Brass
Trickle Valve
__
__
00000000
00000