Static-Eliminating

Air Knives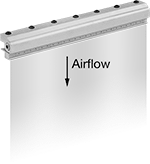 An ionizing bar temporarily neutralizes static to protect against ESD (electrostatic discharge). Air knives create a sheet of high-velocity air for drying and cooling parts, wiping conveyor belts, controlling coating depth, and blowing liquids, chips, and dust from equipment. They conform to OSHA 29 CFR 1910.242 requirements for maximum air outlet pressure and OSHA 29 CFR 1910.95 requirements for noise. Volume (dBA) is measured 3 ft. from the air knife.
A power supply (sold separately) is required. It has two ports for connecting up to two air knives.
Air knives can be mounted with an adjustable arm or mounting bracket (sold separately). Knives up 6" wide can be supported with rigid pipe connected to your air supply.
Shim sets (sold separately) install in the airflow slot to adjust the flow and force of air.
For technical drawings and 3-D models, click on a part number.
Slot


Wd.

Slot


Dp.

Air
Consumption

Volume,


dBA
Wd

Ht.

Dp.

Max.




Temp.,




°F

Max.

Inlet


Pressure,


psi
Static
Neutralizing
Distance
Specifications
Met
Each
Each

1/4

NPT Female Air Inlet

3"
0.002"
12.3 cfm @ 100 psi
86
4

5/8

"
1

5/8

"
1

3/8

"
165
250
6"-20 ft.
C-UL Recognized Component, OSHA Compliant 29 CFR 1910.242, OSHA Compliant 29 CFR 1910.95, UL Recognized Component
00000000
0000000
0000000
000000
6"
0.002"
24.6 cfm @ 100 psi
86
7

5/8

"
1

5/8

"
1

3/8

"
165
250
6"-20 ft.
C-UL Recognized Component, OSHA Compliant 29 CFR 1910.242, OSHA Compliant 29 CFR 1910.95, UL Recognized Component
00000000
000000
0000000
00000
12"
0.002"
49.2 cfm @ 100 psi
86
13

5/8

"
1

5/8

"
1

3/8

"
165
250
6"-20 ft.
C-UL Recognized Component, OSHA Compliant 29 CFR 1910.242, OSHA Compliant 29 CFR 1910.95, UL Recognized Component
00000000
000000
0000000
00000
18"
0.002"
73.8 cfm @ 100 psi
86
19

5/8

"
1

5/8

"
1

3/8

"
165
250
6"-20 ft.
C-UL Recognized Component, OSHA Compliant 29 CFR 1910.242, OSHA Compliant 29 CFR 1910.95, UL Recognized Component
00000000
000000
0000000
00000
24"
0.002"
98.4 cfm @ 100 psi
86
25

5/8

"
1

5/8

"
1

3/8

"
165
250
6"-20 ft.
C-UL Recognized Component, OSHA Compliant 29 CFR 1910.242, OSHA Compliant 29 CFR 1910.95, UL Recognized Component
00000000
000000
0000000
00000
36"
0.002"
147.6 cfm @ 100 psi
86
37

5/8

"
1

5/8

"
1

3/8

"
165
250
6"-20 ft.
C-UL Recognized Component, OSHA Compliant 29 CFR 1910.242, OSHA Compliant 29 CFR 1910.95, UL Recognized Component
00000000
00000000
0000000
00000

Second Port
Mounting Holes

Wd.

Ht.

Dp.

Mounting
Hole


Dia.

Number
of

Ctr.-to-Ctr.

Number
of

Ctr.-to-Ctr.

Housing
Material
Electrical
Connection
Type
Voltage
Electrical
Connection
Type
Voltage
Each
4"
3

7/16

"
6"

1/4

",

9/32

"
4
2

7/8

"
4
5

3/8

"
Steel
Plug
120V AC
Hardwire
230V AC
00000000
0000000

Max.


Projection
For Mounting
Hole Thread Size

Mounting
Fasteners Included
Features
Each
31"

1/2

"-13

Yes
Two Locking Swivels
0000000
0000000