Wire Cutters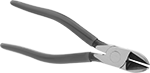 Cushion Grip

Side Cutting Edge
Wire with Semiflush Cut Profile

Wire with Flush Cut Profile

Tapered Head
Also known as diagonal-cutting pliers.
A tapered head fits more easily in tight spaces but is less durable than an oval head.
Cut profile refers to the amount of pinch left on the tip of the wire after it has been cut. Semiflush cutters are the most widely used for electronics assembly and produce a slightly pointed, pinched end. They are generally more accurate than pointed-cut tools.
Spring-assisted jaws open automatically when you release the handles.
O'all




Lg.

Cut
Profile
Cutting
Edge
Location

Lg.

Opening
Style

Max.




Dia.

Max.


Gauge
Type

Material
Each

Tapered Head and Cushion Grip

4

1/4

"
Semiflush
Side

1/2

"
Spring Assisted
0.040"
10
Soft Wire
Steel
0000000
000000
4

1/4

"
Semiflush
Side

1/2

"
Spring Assisted
0.050"
16
Nickel Ribbon Wire
Steel
0000000
00000
5"
Semiflush
Side

11/16

"
Spring Assisted
0.064"
14
Soft Wire
Steel
0000000
00000