Vacuum Pump Oil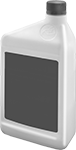 For long-lasting lubrication in vacuum pumps, this oil is slow to evaporate.
Viscosity is the thickness of an oil. The higher the grade, the thicker the oil, and the less it flows.
Chemours Krytox™ oil is chemically inert, can be used with oxygen, and is long lasting with an indefinite shelf life.
Each
ISO
AGMA
SAE
SSU
Size
Type

Temp.


Range,

°F

Color
With
Detergent
Each

Chemours Krytox™

1514—

Synthetic Base Oil

46
1
20
250 @ 100° F
9 fl. oz.
Bottle
32° to 245°
Clear
No
0000000
0000000
Package
ISO
AGMA
SAE
SSU
Size
Type

Temp.


Range,

°F

Color
With
Detergent

Pkg.




Qty.

Pkg.

Chemours Krytox™

1514—

Synthetic Base Oil

46
1
20
250 @ 100° F
9 fl. oz.
Bottle
32° to 245°
Clear
No
6
000000000
0000000