Electrically Conductive Antiseize Lubricants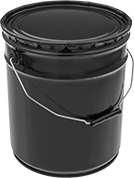 Copper allows these lubricants to conduct electricity, while graphite gives them good chemical and corrosion resistance. Also known as thread lubricants, antiseize lubricants prevent threaded fasteners and close-fitting parts from locking together due to corrosion, contamination, or heat.
Loctite® C5-A Copper-Based Anti-Seize lubricants can be used with salt water and petroleum-based chemicals.
Dielectric strength measures the maximum voltage a lubricant can withstand without losing its insulating properties. The higher the dielectric strength, the better its quality as an insulator.
Electrical resistivity is a measure of how well a material opposes the flow of electricity. The lower the rating, the more electricity it conducts.
Size
Net
Weight
Type
Additive
Electrical
Resistivity
Dielectric


Strength,




V/mil

Temp.




Range,




°F

Color
Compatible
With
Each

Loctite® LB 8008

C5-A

Copper-Based

Anti-Seize

__
0.07 oz.
One-Time-Use Pack
Copper, Graphite
Not Rated
Not Rated
-20° to 1800°
Copper
Aluminum, Brass, Copper, Iron, Plastic, Stainless Steel, Steel
000000
00000
__
0.24 oz.
One-Time-Use Pack
Copper, Graphite
Not Rated
Not Rated
-20° to 1800°
Copper
Aluminum, Brass, Copper, Iron, Plastic, Stainless Steel, Steel
0000000
0000
1 fl. oz.
__
Tube
Copper, Graphite
Not Rated
Not Rated
-20° to 1800°
Copper
Aluminum, Brass, Copper, Iron, Plastic, Stainless Steel, Steel
0000000
0000
4 fl. oz.
__
Brush-Top Can
Copper, Graphite
Not Rated
Not Rated
-20° to 1800°
Copper
Aluminum, Brass, Copper, Iron, Plastic, Stainless Steel, Steel
0000000
00000
4 fl. oz.
__
Tube
Copper, Graphite
Not Rated
Not Rated
-20° to 1800°
Copper
Aluminum, Brass, Copper, Iron, Plastic, Stainless Steel, Steel
0000000
00000
8 fl. oz.
__
Brush-Top Can
Copper, Graphite
Not Rated
Not Rated
-20° to 1800°
Copper
Aluminum, Brass, Copper, Iron, Plastic, Stainless Steel, Steel
0000000
00000
10 fl. oz.
__
Brush-Top Can
Copper, Graphite
Not Rated
Not Rated
-20° to 1800°
Copper
Aluminum, Brass, Copper, Iron, Plastic, Stainless Steel, Steel
0000000
00000
__
1 lbs.
Brush-Top Can
Copper, Graphite
Not Rated
Not Rated
-20° to 1800°
Copper
Aluminum, Brass, Copper, Iron, Plastic, Stainless Steel, Steel
0000000
00000
__
1 lbs.
Can
Copper, Graphite
Not Rated
Not Rated
-20° to 1800°
Copper
Aluminum, Brass, Copper, Iron, Plastic, Stainless Steel, Steel
0000000
00000
__
2

1/2

lbs.
Can
Copper, Graphite
Not Rated
Not Rated
-20° to 1800°
Copper
Aluminum, Brass, Copper, Iron, Plastic, Stainless Steel, Steel
000000
00000
__
8 lbs.
Can
Copper, Graphite
Not Rated
Not Rated
-20° to 1800°
Copper
Aluminum, Brass, Copper, Iron, Plastic, Stainless Steel, Steel
0000000
000000
__
42 lbs.
Pail
Copper, Graphite
Not Rated
Not Rated
-20° to 1800°
Copper
Aluminum, Brass, Copper, Iron, Plastic, Stainless Steel, Steel
0000000
000000