Bearing Grease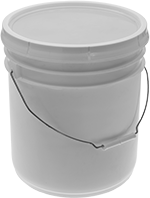 This grease is wear resistant for use in a wide range of bearing types.
NLGI viscosity grade is a rating of a grease's consistency. NLGI 2 is about the consistency of peanut butter.
Grease with lithium thickener offers good heat and moisture resistance.
Grease with moly (molybdenum disulfide) has excellent resistance to wear and can withstand high-load and high-pressure applications. Grease with silicone can be used with most plastic and rubber parts under light loads.
Grease lubricates most efficiently within the listed temperature range. Melting temperature is the point at which grease will fail and run out of equipment, leaving it to run dry.
DuPont Molykote grease withstands high loads and has good wear resistance.
Each
NLGI
Viscosity
Grade
Base
Oil
Additive

Size,




fl.




oz.

Net


Weight,




lbs.

Type

Temp.




Range,




°F

Melting


Temp.,




°F

Color
Each

DuPont Molykote 44 Medium High

Temperature—

Lithium Thickener

2
Synthetic
Moly, Silicone
__
8
Pail
-40° to 400°
430°
White
0000000
0000000
2
Synthetic
Moly, Silicone
5.3
__
Tube
-40° to 400°
430°
White
0000000
00000
2
Synthetic
Moly, Silicone
14
__
Grease Gun Cartridge
-40° to 400°
430°
White
0000000
000000
Package
NLGI
Viscosity
Grade
Base
Oil
Additive

Size,




fl.




oz.

Type

Temp.




Range,




°F

Melting


Temp.,




°F

Color

Pkg.




Qty.

Pkg.

DuPont Molykote 44 Medium High

Temperature—

Lithium Thickener

2
Synthetic
Moly, Silicone
5.3
Tube
-40° to 400°
430°
White
12
00000000
0000000
2
Synthetic
Moly, Silicone
14
Grease Gun Cartridge
-40° to 400°
430°
White
10
00000000
00000000