Wedge-Lock

Wire Rope End

Fittings—

For Lifting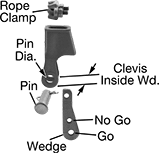 Also known as open wedge sockets, these end fittings require only a torque wrench to install. To install, wrap the wire rope around the removable wedge before securing it inside the body. A wire rope clamp attached through the top hole in the wedge secures the short (dead) end.
Two additional holes at the bottom of the wedge can be used as a "go/no go" gauge to determine the proper rope size. The wire rope should pass through the "go" hole and not through the "no go" hole.
Warning: Fittings must match rope diameter and be installed correctly to obtain maximum holding power. Test all assemblies for required strength before use. Do not use with coated rope unless the coating is removed.
For technical drawings and 3-D models, click on a part number.
Dia.

Construction
Clevis
Inside


Wd.

For
Pin


Dia.

Required


Torque,




ft.-lbs.

Capacity
Specifications
Met
Each
Each
Each

3/8

"
18 × 7 IWRC
19 × 7 Strand Core
6 × 19 Fiber Core
6 × 19 IWRC
6 × 26 IWRC
6 × 37 IWRC
6 × 7 Fiber Core
7 × 19 IWRC
7 × 19 Strand Core
7 × 7 Strand Core

13/16

"

13/16

"
45
80% of the Rope's Capacity
ASME B30.26, Fed. Spec. RR-S-550E
0000000
0000000
0000000
000000
0000000
000000

1/2

"
18 × 7 IWRC
19 × 7 Strand Core
6 × 19 Fiber Core
6 × 19 IWRC
6 × 26 IWRC
6 × 37 IWRC
6 × 7 Fiber Core
7 × 19 IWRC
7 × 19 Strand Core
7 × 7 Strand Core
1"
1"
65
80% of the Rope's Capacity
ASME B30.26, Fed. Spec. RR-S-550E
0000000
000000
0000000
00000
0000000
00000

5/8

"
18 × 7 IWRC
19 × 7 Strand Core
6 × 19 Fiber Core
6 × 19 IWRC
6 × 26 IWRC
6 × 37 IWRC
6 × 7 Fiber Core
7 × 19 IWRC
7 × 19 Strand Core
7 × 7 Strand Core
1

1/4

"
1

7/32

"
95
80% of the Rope's Capacity
ASME B30.26, Fed. Spec. RR-S-550E
0000000
000000
0000000
00000
0000000
00000

3/4

"
18 × 7 IWRC
19 × 7 Strand Core
6 × 19 Fiber Core
6 × 19 IWRC
6 × 26 IWRC
6 × 37 IWRC
6 × 7 Fiber Core
7 × 19 IWRC
7 × 19 Strand Core
7 × 7 Strand Core
1

1/2

"
1

13/32

"
130
80% of the Rope's Capacity
ASME B30.26, Fed. Spec. RR-S-550E
0000000
000000
0000000
00000
0000000
00000