Oscilloscopes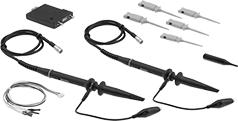 For Computers,
Smartphones,
and Tablets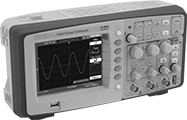 These oscilloscopes graph electrical waveforms over time, allowing you to analyze signal transmission issues, voltage spikes, stray voltage, and other problems with electrical equipment. For the most accurate measurements, the oscilloscope's frequency should be at least five times the maximum signal frequency you intend to measure.
Oscilloscopes for computers, smartphones, and tablets turn your device into a portable oscilloscope so you can take measurements along your line. Use the included USB cords to connect to your device. Download an app to view output, zoom into a waveform to inspect and measure it, and set and change the trigger positions. Record and send readings through email. Compatible with Android, iOS, Mac OS, and Windows operating systems.
Oscilloscopes for computers only connect using the included USB cord. Use your computer to program settings, save, and analyze results. they also have a 7" widescreen display to view readings and a panel with the traditional knobs to program and fine-tune settings directly on the device. Insert a flash drive in the USB port to save a screenshot of your waveform. Compatible with Windows operating systems.
Analog
Digital
Frequency

Real-Time


Sample
Rate
Rise


Time,


ns
Vertical
Sensitivity
AC
Voltage
DC
Voltage
DC
Voltage
Accuracy
Input
AC
Voltage
For
Operating
System
Includes


(Electrical)

Data
Connection
Safety
Rating
Each

For

Computers,

Smartphones,

and Tablets

2
4
0-5 MHz
50 MSa/s
0-20
50 mV/div-2 V/div
-40 to 40
-40 to 40
3%
-40 to 40
Android, iOS, Mac OS, Windows
Four Digital Probes, One Ground, Three USB Cables (One Each with 8-Pin Apple-Compatible Connection, USB Micro-B Connection, and USB A Connection), Two Analog Probes
USB Micro-B
__
0000000
0000000

For Computers

__
2
0-100 MHz
1 GSa/s
0-3.5
2 mV/div-10 V/div
0 to 400
0 to 400
3%
100 to 240
Windows
PC Software, Two-Piece 10:1 Probe Set, USB Cable
USB B
CAT I, 400V
000000
000000
Fluke Scopemeters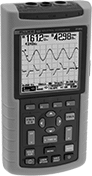 Perform electrical tests, record data, and see a graph of electrical waveforms with this combination multimeter and oscilloscope. Fluke scopemeters are known for quality and durability.
To download and analyze data on a computer, software is required (not included).
When used as an oscilloscope, the scopemeter is most accurate when the frequency is at least five times the maximum signal frequency you intend to measure.
The multimeter function is true RMS, so it accurately takes AC measurements regardless of the load type or sine wave shape. This is important for testing electronic devices that draw current in short pulses that can distort the shape of the wave, such as computers and adjustable-speed drives.
Display count is an industry designation and not an actual value. This 5,000-count scopemeter shows numbers up to 4,999.
Manufacturer
Model
Number

No.

of
Digital
Channels
Frequency
Safety
Rating

Max.


AC
Voltage

Max.


DC
Voltage
DC
Voltage
Accuracy
Display
Count
Data
Log
Capacity
Includes
Specifications
Met
Measures
Batteries
Included
Each

True RMS AC Calculation

123B
2
0-20 MHz
CAT IV, 600V
600
600
0.5%
5,000
512
Alligator Clips, Battery Charger, BNC Adapter, Probe Tips, Test Leads
CSA Certified

AC Voltage, Capacitance, Continuity, DC Voltage, Temperature
Yes
0000000
000000000