About
Vibration-Damping

Mounts
Sanitary Swivel
Vibration-Damping

Leveling Mounts with Threaded Stud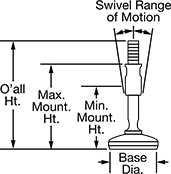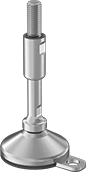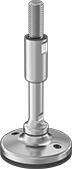 Thread these mounts into machinery to level them on uneven floors in sanitary environments such as food-processing areas. They also create space to clean underneath machinery. All have a hygienic thread cover that prevents contaminants from settling in the grooves. To further block out contaminants as the mount moves, as well as prevent unsanitary metal-to-metal connections, there is a silicone seal at each end of the thread cover and at the point where the mount swivels. These seals have chemical additives, so you can find them with an X-ray machine if a piece falls into your line. This helps you comply with Hazard Analysis and Critical Control Point (HACCP) programs to keep contaminated food from leaving your facility. Seals are also FDA compliant for direct contact with food.
Made of 304 stainless steel, these mounts won't corrode from frequent washdowns with harsh cleaners and sanitizers. Their smooth finish and rounded edges leave no crevices for bacteria to grow in, reducing the chance of foodborne illnesses. They also don't have any horizontal ledges, so liquids and food will drain off completely. Certified by 3-A, EHEDG, and USDA, they meet sanitary design standards.
The rubber cushion on the bottom reduces vibration and noise from machinery, which protects floors and extends machine life. Their grip on the floor minimizes bacteria growth beneath them and prevents machines from shifting.
These mounts swivel to level machinery on slightly uneven floors; for severely uneven floors, use the threaded stud to raise each mount to a level height.
Some mounts have mounting holes to secure them to the floor, keeping machinery stationary. Mounts with one mounting hole are secure enough to prevent machines from moving while they're running and being cleaned. Mounts with two mounting holes reduce vibration by anchoring machinery to the floor on both sides.
For technical drawings and 3-D models, click on a part number.
Thread
Size

Thread


Lg.

Mounting


Ht.

Cap.

per


Mount,




lbs.

Deflection
@


Cap.

Swivel
Range
of Motion
Base


Dia.

Overall


Ht.

Temp.




Range,




°F

Mounting
Fasteners
Included

Dia.

Ctr.-to-Ctr.




Lg.

Performance
Properties
Specifications
Met
Each

304 Stainless Steel with Rubber Cushion

5/8

"-11

3

3/8

"
4

1/8

"-5

1/2

"
2,000
Not Rated
10°
2

9/16

"
7"
-30° to 230°
__
__
__
X-Ray Detectable
3-A Certified 88-00, EHEDG Certified, FDA Compliant 21 CFR 177.2600, USDA Certified
000000
000000

5/8

"-11

3

3/8

"
4

3/8

"-5

11/16

"
3,300
Not Rated
10°
3

3/16

"
7

1/4

"
-30° to 230°
__
__
__
X-Ray Detectable
3-A Certified 88-00, EHEDG Certified, FDA Compliant 21 CFR 177.2600, USDA Certified
000000
00000

5/8

"-11

3

3/8

"
4

3/8

"-5

11/16

"
4,900
Not Rated
10°
4

1/8

"
7

1/4

"
-30° to 230°
__
__
__
X-Ray Detectable
3-A Certified 88-00, EHEDG Certified, FDA Compliant 21 CFR 177.2600, USDA Certified
0000000
00000

5/8

"-11

4

1/2

"
5

5/16

"-7

7/8

"
2,000
Not Rated
10°
2

9/16

"
9

3/8

"
-30° to 230°
__
__
__
X-Ray Detectable
3-A Certified 88-00, EHEDG Certified, FDA Compliant 21 CFR 177.2600, USDA Certified
000000
00000

5/8

"-11

4

1/2

"
5

1/2

"-8

1/16

"
3,300
Not Rated
10°
3

3/16

"
9

9/16

"
-30° to 230°
__
__
__
X-Ray Detectable
3-A Certified 88-00, EHEDG Certified, FDA Compliant 21 CFR 177.2600, USDA Certified
000000
00000

3/4

"-10

3

3/8

"
4

1/8

"-5

1/2

"
2,000
Not Rated
10°
2

9/16

"
7"
-30° to 230°
__
__
__
X-Ray Detectable
3-A Certified 88-00, EHEDG Certified, FDA Compliant 21 CFR 177.2600, USDA Certified
000000
00000

3/4

"-10

3

3/8

"
4

3/8

"-5

11/16

"
3,300
Not Rated
10°
3

3/16

"
7

1/4

"
-30° to 230°
__
__
__
X-Ray Detectable
3-A Certified 88-00, EHEDG Certified, FDA Compliant 21 CFR 177.2600, USDA Certified
000000
00000

3/4

"-10

3

3/8

"
4

3/8

"-5

11/16

"
4,900
Not Rated
10°
4

1/8

"
7

1/4

"
-30° to 230°
__
__
__
X-Ray Detectable
3-A Certified 88-00, EHEDG Certified, FDA Compliant 21 CFR 177.2600, USDA Certified
0000000
00000

3/4

"-10

4

1/2

"
5

1/2

"-8

1/16

"
3,300
Not Rated
10°
3

3/16

"
9

9/16

"
-30° to 230°
__
__
__
X-Ray Detectable
3-A Certified 88-00, EHEDG Certified, FDA Compliant 21 CFR 177.2600, USDA Certified
0000000
00000
1"-8

3

3/8

"
4

3/8

"-5

3/4

"
7,100
Not Rated
10°
4

15/16

"
7

1/4

"
-30° to 230°
__
__
__
X-Ray Detectable
3-A Certified 88-00, EHEDG Certified, FDA Compliant 21 CFR 177.2600, USDA Certified
0000000
000000
M16

__
4

1/8

"-5

1/2

"
2,000
Not Rated
10°
2

9/16

"
7"
-30° to 230°
__
__
__
X-Ray Detectable
3-A Certified 88-00, EHEDG Certified, FDA Compliant 21 CFR 177.2600, USDA Certified
0000000
00000
M20

__
5

1/2

"-8

1/16

"
3,300
Not Rated
10°
3

1/8

"
9

9/16

"
-30° to 230°
__
__
__
X-Ray Detectable
3-A Certified 88-00, EHEDG Certified, FDA Compliant 21 CFR 177.2600, USDA Certified
0000000
00000

304 Stainless Steel with Rubber

Cushion—

One Mounting Hole

5/8

"-11

__
4

5/16

"-5

11/16

"
3,300
Not Rated
10°
3

1/8

"
7

3/16

"
-30° to 230°
No

19/32

"
__
X-Ray Detectable
3-A Certified 88-00, EHEDG Certified, FDA Compliant 21 CFR 177.2600, USDA Certified
0000000
00000

5/8

"-11

__
5

1/2

"-8

1/16

"
3,300
Not Rated
10°
3

1/8

"
9

9/16

"
-30° to 230°
No

19/32

"
__
X-Ray Detectable
3-A Certified 88-00, EHEDG Certified, FDA Compliant 21 CFR 177.2600, USDA Certified
0000000
00000

3/4

"-10

__
4

5/16

"-5

11/16

"
3,300
Not Rated
10°
3

1/8

"
7

3/16

"
-30° to 230°
No

19/32

"
__
X-Ray Detectable
3-A Certified 88-00, EHEDG Certified, FDA Compliant 21 CFR 177.2600, USDA Certified
0000000
00000

3/4

"-10

__
4

5/16

"-5

11/16

"
4,900
Not Rated
10°
4

1/8

"
7

3/16

"
-30° to 230°
No

19/32

"
__
X-Ray Detectable
3-A Certified 88-00, EHEDG Certified, FDA Compliant 21 CFR 177.2600, USDA Certified
0000000
000000

3/4

"-10

__
5

1/2

"-8

1/16

"
3,300
Not Rated
10°
3

1/8

"
9

9/16

"
-30° to 230°
No

19/32

"
__
X-Ray Detectable
3-A Certified 88-00, EHEDG Certified, FDA Compliant 21 CFR 177.2600, USDA Certified
0000000
00000

3/4

"-10

__
5

1/2

"-8

1/16

"
4,900
Not Rated
10°
4

1/8

"
9

9/16

"
-30° to 230°
No

19/32

"
__
X-Ray Detectable
3-A Certified 88-00, EHEDG Certified, FDA Compliant 21 CFR 177.2600, USDA Certified
0000000
000000
M16

__
4

1/8

"-5

1/2

"
2,000
Not Rated
10°
2

9/16

"
7"
-30° to 230°
No

19/32

"
__
X-Ray Detectable
3-A Certified 88-00, EHEDG Certified, FDA Compliant 21 CFR 177.2600, USDA Certified
0000000
00000
M20

__
4

5/16

"-5

11/16

"
3,300
Not Rated
10°
3

1/8

"
7

3/16

"
-30° to 230°
No

19/32

"
__
X-Ray Detectable
3-A Certified 88-00, EHEDG Certified, FDA Compliant 21 CFR 177.2600, USDA Certified
0000000
000000

304 Stainless Steel with Rubber

Cushion—

Two Mounting Holes

5/8

"-11

__
4"-5

3/8

"
6,800
Not Rated
9°
3

1/8

"
6

7/8

"
-30° to 230°
No

11/32

"
2

1/4

"
X-Ray Detectable
3-A Certified 88-00, EHEDG Certified, FDA Compliant 21 CFR 177.2600, USDA Certified
0000000
000000

5/8

"-11

__
5

3/16

"-7

3/4

"
5,400
Not Rated
9°
3

1/8

"
9

1/4

"
-30° to 230°
No

11/32

"
2

1/4

"
X-Ray Detectable
3-A Certified 88-00, EHEDG Certified, FDA Compliant 21 CFR 177.2600, USDA Certified
0000000
000000

3/4

"-10

__
4"-5

3/8

"
9,800
Not Rated
9°
4

1/16

"
6

7/8

"
-30° to 230°
No

1/2

"
3

1/8

"
X-Ray Detectable
3-A Certified 88-00, EHEDG Certified, FDA Compliant 21 CFR 177.2600, USDA Certified
0000000
000000

3/4

"-10

__
5

3/16

"-7

3/4

"
9,800
Not Rated
9°
4

1/16

"
9

1/4

"
-30° to 230°
No

1/2

"
3

1/8

"
X-Ray Detectable
3-A Certified 88-00, EHEDG Certified, FDA Compliant 21 CFR 177.2600, USDA Certified
0000000
000000
1"-8

__
4"-5

3/8

"
17,400
Not Rated
9°
4

1/16

"
6

7/8

"
-30° to 230°
No

1/2

"
3

1/8

"
X-Ray Detectable
3-A Certified 88-00, EHEDG Certified, FDA Compliant 21 CFR 177.2600, USDA Certified
0000000
000000
1"-8

__
5

3/16

"-7

3/4

"
17,400
Not Rated
9°
4

1/16

"
9

1/4

"
-30° to 230°
No

1/2

"
3

1/8

"
X-Ray Detectable
3-A Certified 88-00, EHEDG Certified, FDA Compliant 21 CFR 177.2600, USDA Certified
0000000
000000