Filters for Spray Booths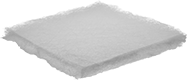 Fiberglass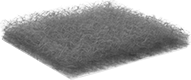 Fiberglass with Polyester Plastic Backing

Expanded Paper
These economical filters hold contaminants while allowing proper airflow.
Fiberglass filters provide moderate efficiency.
Fiberglass filters with polyester backing are thicker than standard fiberglass filters—the layer of polyester increases efficiency.
Expanded paper filters are more efficient than fiberglass filters. They are made of layered paper.
High-Efficiency

Filters for Spray Booths

The most efficient spray booth filters we offer, these filters are made of polyester for moisture resistance.