Frames for Panel Air Filters
Hold panel filters in place. The frames can be welded together to hold multiple filters. The trade size is the actual size of the frame.
Add clips to attach frames to 1" or 4" filters.
For technical drawings and 3-D models, click on a part number.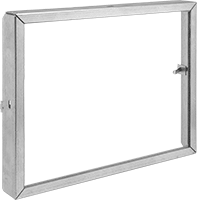 Frame

Replacement Retaining Clip
Replacement
Retaining Clips

For HVAC Filter
Trade
Size
For
Filter


Thick.

Frame
Material
Frame
Gauge
Mounting
Hardware
Included
Includes
Each

Pkg.




Qty.

Pkg.

12 × 12
2"
Galvanized Steel
16
Yes
Retaining Clips, Sealing Gasket
00000000
000000
2
00000000
00000
12 × 24
2"
Galvanized Steel
16
Yes
Retaining Clips, Sealing Gasket
00000000
00000
2
00000000
0000
16 × 20
2"
Galvanized Steel
16
Yes
Retaining Clips, Sealing Gasket
00000000
00000
2
00000000
0000
16 × 25
2"
Galvanized Steel
16
Yes
Retaining Clips, Sealing Gasket
00000000
00000
2
00000000
0000
20 × 20
2"
Galvanized Steel
16
Yes
Retaining Clips, Sealing Gasket
00000000
00000
2
00000000
0000
20 × 24
2"
Galvanized Steel
16
Yes
Retaining Clips, Sealing Gasket
00000000
00000
2
00000000
0000
20 × 25
2"
Galvanized Steel
16
Yes
Retaining Clips, Sealing Gasket
00000000
00000
2
00000000
0000
24 × 24
2"
Galvanized Steel
16
Yes
Retaining Clips, Sealing Gasket
00000000
00000
2
00000000
0000
25

1/2

× 35

1/2

2"
Galvanized Steel
16
Yes
Retaining Clips, Sealing Gasket
00000000
000000
2
00000000
0000