How to

Identify and Measure Fittings
Pipe size is an industry designation, not the actual size. View information about how to measure threaded and unthreaded pipe and pipe fittings.
Screw-On

Hose Fittings for Hydraulic Fluid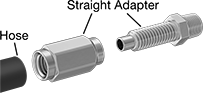 These two-piece fittings screw directly onto rubber hose without the need for a separate adapter. To install, separate the two pieces of the fitting (the hose-end portion and the nipple portion). Screw the hose-end portion of the fitting onto the hose, then thread the nipple portion of the fitting into the hose-end portion. When assembled, the fitting compresses against the hose, forming a strong seal. Also known as reusable fittings, they can be unscrewed from the hose end and used on a new hose.
Zinc-plated steel fittings offer better strength and durability than 316 stainless steel fittings. They have fair corrosion resistance. 316 stainless steel fittings have excellent corrosion resistance.
Fittings with a 37° flared end are also known as JIC (Joint Industrial Council) fittings. They swivel 360° until tightened for easy installation.
NPTF (Dryseal) threads are compatible with NPT threads.
Notes: Fittings are only for use with hydraulic hose.
For technical drawings and 3-D models, click on a part number.
Straight Adapters, Screw-On Hose × Male Threaded Pipe

Maximum

Pressure:

See table
Temperature

Range:

-40° to 212° F

For Hose

Manufacturer

Series:


Parker 42 Series

Fittings:

Parker 422 SAE J517 100R1AT
Parker 30 Series

Fittings:

Parker 302 SAE

J517 100R2AT
ID
OD
Pipe
Size

Thread
Type
Dash
Size

Max.

Pressure
Each

1-99

100-Up

Zinc-Plated

Steel—

Parker 30 Series

1/4

"

5/8

"

1/4

NPTF

04
5,800 psi @ 72° F
00000000
000000
0000000
00000
00000

3/8

"

3/4

"

3/8

NPTF

06
4,500 psi @ 72° F
00000000
00000
0000000
0000
0000

1/2

"

7/8

"

1/2

NPTF

08
4,000 psi @ 72° F
00000000
00000
0000000
0000
0000

3/4

"
1

3/16

"

3/4

NPTF

12
3,100 psi @ 72° F
00000000
00000
0000000
00000
00000
1"
1

1/2

"
1

NPTF

16
2,400 psi @ 72° F
00000000
000000
0000000
00000
00000

316 Stainless

Steel—

Parker 30 Series

1/4

"

5/8

"

1/4

NPTF

04
5,800 psi @ 72° F
0000000
00000
0000000
0000
0000

3/8

"

3/4

"

3/8

NPTF

06
4,500 psi @ 72° F
0000000
00000
0000000
0000
0000

1/2

"

7/8

"

1/2

NPTF

08
4,000 psi @ 72° F
0000000
00000
0000000
0000
0000

3/4

"
1

3/16

"

3/4

NPTF

12
3,100 psi @ 72° F
0000000
000000
0000000
00000
00000
1"
1

1/2

"
1

NPTF

16
2,400 psi @ 72° F
0000000
000000
0000000
00000
00000
Straight Adapters, Screw-On Hose × Female 37° Flared Tube

Maximum

Pressure:

See table
Temperature

Range:

-40° to 212° F

For Hose

Manufacturer

Series:


Parker 42 Series

Fittings:

Parker 422 SAE J517 100R1AT
Parker 30 Series

Fittings:

Parker 302 SAE

J517 100R2AT

Specifications

Met:

See table
ID
OD
For
Tube
OD
Thread
Size

Thread
Type
Dash
Size

Max.


Pressure
Specifications
Met
Each

1-99

100-Up

Zinc-Plated

Steel—

Parker 30 Series

1/4

"

5/8

"

1/4

"

7/16

"-20

UN/UNF (JIC)

04
5,800 psi @ 72° F
SAE J516
00000000
000000
0000000
00000
00000

3/8

"

3/4

"

3/8

"

9/16

"-18

UN/UNF (JIC)

06
4,500 psi @ 72° F
SAE J516
00000000
00000
0000000
0000
0000

1/2

"

7/8

"

1/2

"

3/4

"-16

UN/UNF (JIC)

08
4,000 psi @ 72° F
SAE J516
00000000
00000
0000000
0000
0000

3/4

"
1

3/16

"

3/4

"
1

1/16

"-12

UN/UNF (JIC)

12
3,100 psi @ 72° F
SAE J516
00000000
00000
0000000
00000
00000
1"
1

1/2

"
1"
1

5/16

"-12

UN/UNF (JIC)

16
2,400 psi @ 72° F
SAE J516
00000000
000000
0000000
00000
00000

316 Stainless

Steel—

Parker 30 Series

1/4

"

5/8

"

1/4

"

7/16

"-20

UN/UNF (JIC)

04
5,800 psi @ 72° F
SAE J514
0000000
00000
0000000
0000
0000

3/8

"

3/4

"

3/8

"

9/16

"-18

UN/UNF (JIC)

06
4,500 psi @ 72° F
SAE J514
0000000
00000
0000000
0000
0000

1/2

"

7/8

"

1/2

"

3/4

"-16

UN/UNF (JIC)

08
4,000 psi @ 72° F
SAE J514
0000000
00000
0000000
0000
0000

3/4

"
1

3/16

"

3/4

"
1

1/16

"-12

UN/UNF (JIC)

12
3,100 psi @ 72° F
SAE J514
0000000
000000
0000000
00000
00000
1"
1

1/2

"
1"
1

5/16

"-12

UN/UNF (JIC)

16
2,400 psi @ 72° F
SAE J514
0000000
000000
0000000
00000
00000