Adjustable
Bent-Pull

Clevis Pins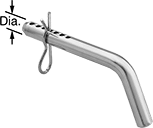 These pins have multiple through holes; change the length by moving the included hairpin cotter pin. The bend makes them easy to insert and pull out. The excess pin length can be cut off after installation.
Zinc-plated steel pins have good strength and some corrosion resistance.
18-8 stainless steel pins offer a balance of strength and corrosion resistance. They may be mildly magnetic.
For technical drawings and 3-D models, click on a part number.
Usable


Lg.

Lg.

Dia.


Tolerance

No.


of
Holes
Hole


Ctr.-to-Ctr.

Through
Hole


Dia.

For


Max.


Cotter Pin

Dia.

Each

Zinc-Plated

1004-1045

Carbon Steel

2

1/2

", 2

3/4

", 3", 3

1/4

", 3

1/2

", 3

3/4

", 4"
4"
-0.005" to 0"
7

1/4

"

5/32

"

5/32

"
000000000
00000
4

1/2

", 4

3/4

", 5", 5

1/4

", 5

1/2

", 5

3/4

", 6"
6"
-0.005" to 0"
7

1/4

"

5/32

"

5/32

"
000000000
0000
2

1/2

", 2

3/4

", 3", 3

1/4

", 3

1/2

", 3

3/4

", 4"
4"
-0.005" to 0"
7

1/4

"

5/32

"

5/32

"
000000000
0000
4

1/2

", 4

3/4

", 5", 5

1/4

", 5

1/2

", 5

3/4

", 6"
6"
-0.005" to 0"
7

1/4

"

5/32

"

5/32

"
000000000
0000
2

1/8

", 2

7/16

", 2

3/4

", 3

1/16

", 3

3/8

", 3

11/16

", 4"
4"
-0.005" to 0"
7

5/16

"

13/64

"

13/64

"
000000000
0000
4

1/8

", 4

7/16

", 4

3/4

", 5

1/16

", 5

3/8

", 5

11/16

", 6"
6"
-0.005" to 0"
7

5/16

"

13/64

"

13/64

"
000000000
0000
2

1/8

", 2

7/16

", 2

3/4

", 3

1/16

", 3

3/8

", 3

11/16

", 4"
4"
-0.005" to 0"
7

5/16

"

13/64

"

13/64

"
000000000
0000
4

1/8

", 4

7/16

", 4

3/4

", 5

1/16

", 5

3/8

", 5

11/16

", 6"
6"
-0.005" to 0"
7

5/16

"

13/64

"

13/64

"
000000000
00000
4

1/8

", 4

7/16

", 4

3/4

", 5

1/16

", 5

3/8

", 5

11/16

", 6"
6"
-0.005" to 0"
7

5/16

"

13/64

"

13/64

"
000000000
00000
6

1/8

", 6

7/16

", 6

3/4

", 7

1/16

", 7

3/8

", 7

11/16

", 8"
8"
-0.005" to 0"
7

5/16

"

13/64

"

13/64

"
000000000
00000
6

1/8

", 6

7/16

", 6

3/4

", 7

1/16

", 7

3/8

", 7

11/16

", 8"
8"
-0.005" to 0"
7

5/16

"

13/64

"

13/64

"
000000000
00000
4

1/2

", 4

3/4

", 5", 5

1/4

", 5

1/2

", 5

3/4

", 6"
6"
-0.005" to 0"
7

1/4

"

5/32

"

5/32

"
000000000
00000
4

1/8

", 4

7/16

", 4

3/4

", 5

1/16

", 5

3/8

", 5

11/16

", 6"
6"
-0.005" to 0"
7

5/16

"

13/64

"

13/64

"
000000000
00000
4

1/8

", 4

7/16

", 4

3/4

", 5

1/16

", 5

3/8

", 5

11/16

", 6"
6"
-0.005" to 0"
7

5/16

"

13/64

"

13/64

"
000000000
00000