Class Z
No-Go

Plug Gauges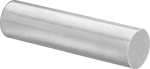 These Class Z no-go gauges help you check the maximum hole diameter. Commonly known as pin gauges, use them to measure hole size and depth, check hole location and distance, and set micrometers. All come with a certificate of accuracy traceable to NIST that states they've passed a test for accuracy.
If a no-go gauge is unable to enter the hole and a go gauge can, the hole is within tolerance.
For technical drawings and 3-D models, click on a part number.