Drawbar Rings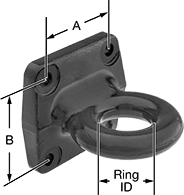 1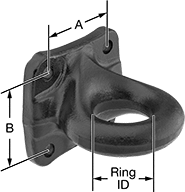 2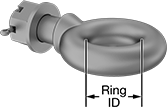 3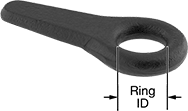 4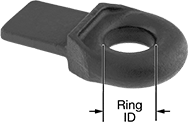 5
These rings mount to a trailer and connect to the drawbar coupler or tow hook on a vehicle to create a towing connection. Maximum trailer weight is the total weight being towed. Vertical capacity (also known as tongue weight) represents the weight of the load on the drawbar ring.
Note: Capacity is reduced 25% in off-road use.
For technical drawings and 3-D models, click on a part number.
Style
For

Max.


Trailer


Wt.,

lbs.

Vertical


Capacity,




lbs.

Dp.

Ht.

Material
ID

Thick.

Dia.

Ctr.-to-Ctr.




(A)

Ctr.-to-Ctr.




(B)

Wd.

Ht.

Stud
Length
Size

Length
Each

Bolt On

1
42,000
7,000
6

11/16

"
6"
Steel
2

1/2

"
1

1/4

"

5/8

"
4

1/2

"
4

1/2

"
6"
6"
__
__
__
00000000
0000000
2
60,000
15,000
6

13/16

"
6

3/8

"
Steel
3"
1

5/8

"

3/4

"
4

1/2

"
4

1/2

"
6

5/8

"
6

3/8

"
__
__
__
00000000
000000
2
100,000
20,000
6

13/16

"
6

3/8

"
Steel
3"
1

5/8

"

7/8

"
4

1/2

"
4

1/2

"
6

5/8

"
6

3/8

"
__
__
__
00000000
000000

Threaded Stud

3
15,000
3,000
9

1/8

"
__
Steel
2

1/2

"
1

1/2

"
__
__
__
__
__
3

1/4

"
1 1/2"-6

1

3/4

"
00000000
000000

Weld On

4
12,000
1,800
8

9/16

"
__
Steel
2"

7/8

"
__
__
__
__
__
__
__
__
00000000
00000
5
90,000
13,500
9

5/16

"
__
Steel
2

3/8

"
1

5/8

"
__
__
__
__
__
__
__
__
00000000
000000