Locating Pin Retractors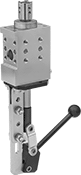 Use the handle on these retractors to extend and retract a locating pin, protecting the pin from damage in applications where fixtures move through a process, such as along a conveyor belt. Retractors are production-grade and designed for high-volume use.
Secure a locating pin to the top of the retractor using four M5 set screws (not included). For easy alignment, shoulder-style locating pins are recommended.