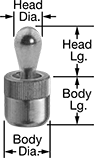 Steel Head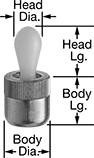 Plastic Head
As the workpiece pushes against the pin head in one direction, the internal spring pushes back to hold it in place for clamping. Press into a drilled hole using the installation tool (sold separately). Also known as spring locating pins and side-thrust pins.
Plastic-head pins won't mar soft metal and polished surfaces.
For technical drawings and 3-D models, click on a part number.
Dia.

Lg.

Dia.

Lg.

Max.


Head
Movement

Min.


Spring


Force,

lbs.

Max.


Spring


Force,

lbs.

Body


Dia.


Tolerance
Body
Material
Each
Each
0.25"
0.28"
0.12"
0.16"
0.04"
2.3
2.5
0" to 0.0009"
Aluminum
0000000
00000
0000000
000000
0.25"
0.28"
0.12"
0.16"
0.04"
4.5
5
0" to 0.0009"
Aluminum
0000000
0000
0000000
00000
0.25"
0.28"
0.12"
0.16"
0.04"
Not Rated
9
-0.002" to 0.002"
Aluminum
0000000
0000
0000000
00000
0.44"
0.43"
0.2"
0.24"
0.06"
4.5
5
0" to 0.0011"
Aluminum
0000000
0000
0000000
00000
0.44"
0.43"
0.2"
0.24"
0.06"
11.3
12.4
0" to 0.0011"
Aluminum
0000000
0000
0000000
00000
0.44"
0.43"
0.2"
0.26"
0.06"
Not Rated
21.5
-0.002" to 0.002"
Aluminum
0000000
0000
0000000
00000
0.44"
0.43"
0.24"
0.42"
0.08"
Not Rated
22.5
-0.002" to 0.002"
Aluminum
0000000
0000
0000000
00000
0.44"
0.43"
0.24"
0.43"
0.08"
9
9.9
0" to 0.0011"
Aluminum
0000000
0000
0000000
00000
0.44"
0.43"
0.24"
0.43"
0.08"
16.9
18.6
0" to 0.0011"
Aluminum
0000000
0000
0000000
00000
0.5"
0.51"
0.31"
0.53"
0.1"
11.3
12.4
0" to 0.0011"
Aluminum
0000000
0000
0000000
00000
0.5"
0.51"
0.31"
0.53"
0.1"
22.5
24.8
0" to 0.0011"
Aluminum
0000000
0000
0000000
00000
0.5"
0.53"
0.32"
0.54"
0.09"
Not Rated
34
-0.0004" to 0.0004"
Aluminum
0000000
0000
0000000
00000
0.63"
0.67"
0.39"
0.64"
0.13"
22.5
24.8
0" to 0.0011"
Aluminum
0000000
0000
0000000
00000
0.63"
0.67"
0.39"
0.64"
0.13"
45
49.5
0" to 0.0011"
Aluminum
0000000
0000
0000000
00000
0.63"
0.67"
0.39"
0.66"
0.12"
Not Rated
34
-0.0004" to 0.0004"
Aluminum
0000000
0000
0000000
00000

Acetal Plastic Head

0.25"
0.28"
0.12"
0.16"
0.04"
2.3
2.5
0" to 0.0009"
Aluminum
0000000
0000
0000000
00000
0.44"
0.38"
0.24"
0.41"
0.08"
13.5
14.8
0" to 0.0011"
Aluminum
0000000
0000
0000000
00000
0.44"
0.43"
0.24"
0.43"
0.08"
9
9.9
0" to 0.0011"
Aluminum
0000000
0000
0000000
00000
0.5"
0.51"
0.31"
0.53"
0.1"
11.3
12.4
0" to 0.0011"
Aluminum
0000000
0000
0000000
00000
0.63"
0.67"
0.39"
0.64"
0.13"
22.5
24.8
0" to 0.0011"
Aluminum
0000000
0000
0000000
00000