T-Handle

Locking

Quick-Release

Pins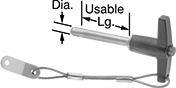 For a more secure hold than standard quick-release pins, these pins lock in place until you push the button to release the spring-loaded retaining balls. A T-handle makes them easy to grip. Use them in a hole as close to the diameter as possible, but not larger than the diameter at extended ball height. Pins are made of 17-4 PH stainless steel for strength with some corrosion resistance, and passivated for added protection against corrosion and oxidation. They are magnetic. Breaking strength is measured as double shear, which is the force required to break a pin into three pieces.
Choose a pin with a lanyard to keep the pin from getting lost when removed.
For technical drawings and 3-D models, click on a part number.
Usable


Lg.

Dia.

at Extended
Ball

Ht.

Min.

Hardness
Breaking


Strength,

lbs.

Handle Material
Handle
Color
Each

With

Plastic-Coated

Stainless Steel Lanyard

1/2

"
0.22"
Rockwell C40
5,100
380 Aluminum
Black
000000000
000000

3/4

"
0.22"
Rockwell C40
5,100
380 Aluminum
Black
000000000
00000
1"
0.22"
Rockwell C40
5,100
380 Aluminum
Black
000000000
00000
1

1/4

"
0.22"
Rockwell C40
5,100
380 Aluminum
Black
000000000
00000
1

1/2

"
0.22"
Rockwell C40
5,100
380 Aluminum
Black
000000000
00000
1

3/4

"
0.22"
Rockwell C40
5,100
380 Aluminum
Black
000000000
00000
2"
0.22"
Rockwell C40
5,100
380 Aluminum
Black
000000000
00000
2

1/4

"
0.22"
Rockwell C40
5,100
380 Aluminum
Black
000000000
00000
2

1/2

"
0.22"
Rockwell C40
5,100
380 Aluminum
Black
000000000
00000
3"
0.22"
Rockwell C40
5,100
380 Aluminum
Black
000000000
00000
4"
0.22"
Rockwell C40
5,100
380 Aluminum
Black
000000000
00000

1/2

"
0.289"
Rockwell C40
9,200
380 Aluminum
Black
000000000
00000

3/4

"
0.289"
Rockwell C40
9,200
380 Aluminum
Black
000000000
00000

7/8

"
0.289"
Rockwell C40
9,200
380 Aluminum
Black
000000000
00000
1"
0.289"
Rockwell C40
9,200
380 Aluminum
Black
000000000
00000
1

1/4

"
0.289"
Rockwell C40
9,200
380 Aluminum
Black
000000000
00000
1

1/2

"
0.289"
Rockwell C40
9,200
380 Aluminum
Black
000000000
00000
1

3/4

"
0.289"
Rockwell C40
9,200
380 Aluminum
Black
000000000
00000
2"
0.289"
Rockwell C40
9,200
380 Aluminum
Black
000000000
00000
2

1/4

"
0.289"
Rockwell C40
9,200
380 Aluminum
Black
000000000
00000
2

1/2

"
0.289"
Rockwell C40
9,200
380 Aluminum
Black
000000000
00000
2

3/4

"
0.289"
Rockwell C40
9,200
380 Aluminum
Black
000000000
00000
3"
0.289"
Rockwell C40
9,200
380 Aluminum
Black
000000000
00000
3

1/4

"
0.289"
Rockwell C40
9,200
380 Aluminum
Black
000000000
00000
3

1/2

"
0.289"
Rockwell C40
9,200
380 Aluminum
Black
000000000
00000
4"
0.289"
Rockwell C40
9,200
380 Aluminum
Black
000000000
00000
5"
0.289"
Rockwell C40
9,200
380 Aluminum
Black
000000000
00000

1/2

"
0.375"
Rockwell C40
14,400
380 Aluminum
Black
000000000
00000

3/4

"
0.375"
Rockwell C40
14,400
380 Aluminum
Black
000000000
00000
1"
0.375"
Rockwell C40
14,400
380 Aluminum
Black
000000000
00000
1

1/4

"
0.375"
Rockwell C40
14,400
380 Aluminum
Black
000000000
00000
1

1/2

"
0.375"
Rockwell C40
14,400
380 Aluminum
Black
000000000
00000
1

3/4

"
0.375"
Rockwell C40
14,400
380 Aluminum
Black
000000000
00000
2"
0.375"
Rockwell C40
14,400
380 Aluminum
Black
000000000
00000
2

1/4

"
0.375"
Rockwell C40
14,400
380 Aluminum
Black
000000000
00000
2

1/2

"
0.375"
Rockwell C40
14,400
380 Aluminum
Black
000000000
00000
3"
0.375"
Rockwell C40
14,400
380 Aluminum
Black
000000000
00000
4"
0.375"
Rockwell C40
14,400
380 Aluminum
Black
000000000
00000
5"
0.375"
Rockwell C40
14,400
380 Aluminum
Black
000000000
00000

1/2

"
0.44"
Rockwell C40
20,500
380 Aluminum
Black
000000000
00000

3/4

"
0.44"
Rockwell C40
20,500
380 Aluminum
Black
000000000
00000
1"
0.44"
Rockwell C40
20,500
380 Aluminum
Black
000000000
00000
1

1/4

"
0.44"
Rockwell C40
20,500
380 Aluminum
Black
000000000
00000
1

1/2

"
0.44"
Rockwell C40
20,500
380 Aluminum
Black
000000000
00000
1

3/4

"
0.44"
Rockwell C40
20,500
380 Aluminum
Black
000000000
00000
2"
0.44"
Rockwell C40
20,500
380 Aluminum
Black
000000000
00000
2

1/4

"
0.44"
Rockwell C40
20,500
380 Aluminum
Black
000000000
00000
2

1/2

"
0.44"
Rockwell C40
20,500
380 Aluminum
Black
000000000
00000
2

3/4

"
0.44"
Rockwell C40
20,500
380 Aluminum
Black
000000000
00000
3"
0.44"
Rockwell C40
20,500
380 Aluminum
Black
000000000
00000
3

1/4

"
0.44"
Rockwell C40
20,500
380 Aluminum
Black
000000000
00000
3

1/2

"
0.44"
Rockwell C40
20,500
380 Aluminum
Black
000000000
00000
3

3/4

"
0.44"
Rockwell C40
20,500
380 Aluminum
Black
000000000
00000
4"
0.44"
Rockwell C40
20,500
380 Aluminum
Black
000000000
00000
4

1/2

"
0.44"
Rockwell C40
20,500
380 Aluminum
Black
000000000
00000
5"
0.44"
Rockwell C40
20,500
380 Aluminum
Black
000000000
00000
6"
0.44"
Rockwell C40
20,500
380 Aluminum
Black
000000000
00000
1"
0.509"
Rockwell C40
28,000
380 Aluminum
Black
000000000
00000
1

1/2

"
0.509"
Rockwell C40
28,000
380 Aluminum
Black
000000000
00000
2"
0.509"
Rockwell C40
28,000
380 Aluminum
Black
000000000
00000
2

1/2

"
0.509"
Rockwell C40
28,000
380 Aluminum
Black
000000000
00000
3"
0.509"
Rockwell C40
28,000
380 Aluminum
Black
000000000
00000
1"
0.594"
Rockwell C40
36,500
380 Aluminum
Black
000000000
00000
1

1/4

"
0.594"
Rockwell C40
36,500
380 Aluminum
Black
000000000
00000
1

1/2

"
0.594"
Rockwell C40
36,500
380 Aluminum
Black
000000000
00000
1

3/4

"
0.594"
Rockwell C40
36,500
380 Aluminum
Black
000000000
00000
2"
0.594"
Rockwell C40
36,500
380 Aluminum
Black
000000000
00000
2

1/4

"
0.594"
Rockwell C40
36,500
380 Aluminum
Black
000000000
00000
2

1/2

"
0.594"
Rockwell C40
36,500
380 Aluminum
Black
000000000
00000
2

3/4

"
0.594"
Rockwell C40
36,500
380 Aluminum
Black
000000000
00000
3"
0.594"
Rockwell C40
36,500
380 Aluminum
Black
000000000
00000
3

1/4

"
0.594"
Rockwell C40
36,500
380 Aluminum
Black
000000000
00000
3

1/2

"
0.594"
Rockwell C40
36,500
380 Aluminum
Black
000000000
00000
3

3/4

"
0.594"
Rockwell C40
36,500
380 Aluminum
Black
000000000
00000
4"
0.594"
Rockwell C40
36,500
380 Aluminum
Black
000000000
00000
4

1/2

"
0.594"
Rockwell C40
36,500
380 Aluminum
Black
000000000
00000
5"
0.594"
Rockwell C40
36,500
380 Aluminum
Black
000000000
00000
5

1/2

"
0.594"
Rockwell C40
36,500
380 Aluminum
Black
000000000
00000
6"
0.594"
Rockwell C40
36,500
380 Aluminum
Black
000000000
00000
7"
0.594"
Rockwell C40
36,500
380 Aluminum
Black
000000000
000000