T-Handle

Quick-Release

Pins

Pin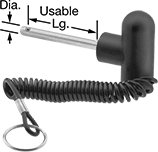 A T-handle makes these pins easy to grip. Pins have a spring-loaded ball that pops out when the pin is pushed into a hole and retracts when the pin is pulled out. For the best fit, the hole should be as close to the diameter as possible, but not larger than the diameter at extended ball height. Pins are made of zinc-plated steel for good strength and some corrosion resistance. Breaking strength is measured as single shear, which is the force required to break the pin into two pieces.
Choose a pin with a lanyard to keep the pin from getting lost when removed.
For technical drawings and 3-D models, click on a part number.
Usable


Lg.

Dia.


Tolerance

Dia.

at
Extended
Ball

Ht.

Min.


Hardness
Breaking


Strength,




lbs.

Ball
Material
Handle
Material
Handle
Color
Each

Zinc-Plated

1144 Carbon Steel Pins with Plastic Lanyard

2"
-0.003" to 0"
0.286"
Rockwell C26
1,900
316 Stainless Steel
Polypropylene Plastic
Black
000000000
000000
3"
-0.003" to 0"
0.286"
Rockwell C26
1,900
316 Stainless Steel
Polypropylene Plastic
Black
000000000
00000
4"
-0.003" to 0"
0.286"
Rockwell C26
1,900
316 Stainless Steel
Polypropylene Plastic
Black
000000000
00000
2

1/8

"
-0.003" to 0"
0.426"
Rockwell C26
4,300
316 Stainless Steel
Polypropylene Plastic
Black
000000000
00000
3

1/8

"
-0.003" to 0"
0.426"
Rockwell C26
4,300
316 Stainless Steel
Polypropylene Plastic
Black
000000000
00000
3

1/4

"
-0.003" to 0"
0.57"
Rockwell C26
7,700
316 Stainless Steel
Polypropylene Plastic
Black
000000000
00000

Zinc-Plated

1144 Carbon Steel Pins

1"
-0.003" to 0"
0.286"
Rockwell B85
3,800
316 Stainless Steel
Polypropylene Plastic
Black
000000000
0000
1

1/2

"
-0.003" to 0"
0.286"
Rockwell B85
3,800
316 Stainless Steel
Polypropylene Plastic
Black
000000000
0000
2"
-0.003" to 0"
0.286"
Rockwell B85
3,800
316 Stainless Steel
Polypropylene Plastic
Black
000000000
0000
2

1/2

"
-0.003" to 0"
0.286"
Rockwell B85
3,800
316 Stainless Steel
Polypropylene Plastic
Black
000000000
0000
3"
-0.003" to 0"
0.286"
Rockwell B85
3,800
316 Stainless Steel
Polypropylene Plastic
Black
000000000
0000
1"
-0.003" to 0"
0.356"
Rockwell B85
6,300
316 Stainless Steel
Polypropylene Plastic
Black
000000000
0000
1

1/2

"
-0.003" to 0"
0.356"
Rockwell B85
6,300
316 Stainless Steel
Polypropylene Plastic
Black
000000000
0000
2"
-0.003" to 0"
0.356"
Rockwell B85
6,300
316 Stainless Steel
Polypropylene Plastic
Black
000000000
0000
2

1/2

"
-0.003" to 0"
0.356"
Rockwell B85
6,300
316 Stainless Steel
Polypropylene Plastic
Black
000000000
0000
3"
-0.003" to 0"
0.356"
Rockwell B85
6,300
316 Stainless Steel
Polypropylene Plastic
Black
000000000
0000
1

1/2

"
-0.003" to 0"
0.426"
Rockwell B85
7,800
316 Stainless Steel
Polypropylene Plastic
Black
000000000
0000
2"
-0.003" to 0"
0.426"
Rockwell B85
7,800
316 Stainless Steel
Polypropylene Plastic
Black
000000000
0000
2

1/2

"
-0.003" to 0"
0.426"
Rockwell B85
7,800
316 Stainless Steel
Polypropylene Plastic
Black
000000000
0000
3"
-0.003" to 0"
0.426"
Rockwell B85
7,800
316 Stainless Steel
Polypropylene Plastic
Black
000000000
0000
3

1/2

"
-0.003" to 0"
0.426"
Rockwell B85
7,800
316 Stainless Steel
Polypropylene Plastic
Black
000000000
0000
4"
-0.003" to 0"
0.426"
Rockwell B85
7,800
316 Stainless Steel
Polypropylene Plastic
Black
000000000
0000
5"
-0.003" to 0"
0.426"
Rockwell B85
7,800
316 Stainless Steel
Polypropylene Plastic
Black
000000000
0000
2

1/2

"
-0.003" to 0"
0.57"
Rockwell B85
13,600
316 Stainless Steel
Polypropylene Plastic
Black
000000000
0000
4"
-0.003" to 0"
0.57"
Rockwell B85
13,600
316 Stainless Steel
Polypropylene Plastic
Black
000000000
0000