Woodruff Key Assortments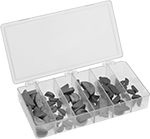 A rounded bottom allows these keys to rock in their seat to relieve stress on the shaft caused by vibration or misalignment.
Zinc- and zinc yellow-chromate plated steel keys resist corrosion in wet environments.
316 stainless steel keys have excellent chemical and corrosion resistance. However, they're not as strong as steel keys.
Number
of
Pieces
Woodruff
Keys
Included
Container
Type
Each
30
Key Number 3 (10 each)
Key Number 6 (8 Each)
Key Numbers A, 9, and 15 (4 Each)
Plastic Box
000000000
000000
97
Key Numbers 1, 2, 4, 5, 16, 19, 12, 14, 17, 20, 21, 22, 24, D, 23, E, 26, 27, 28, and 29 (1 Each)
Key Numbers 3, 7, 6, 8, and 91 (4 Each)
Key Number 9 (12 Each)
Key Numbers 10, 13, 15, B, and 152 (3 Each)
Key Numbers 11 and A (10 Each)
Key Numbers 18 and G (5 Each)
Plastic Box
000000000
000000
225
Key Numbers 11, 13, and A (10 Each)
Key Numbers 15, 18, and E (5 Each)
Key Numbers 211, 212, 213, 1, 2, 3, 5, 7, 6, 61, 9, and 91 (15 Each)
Plastic Box
000000000
000000
350
Key Size 1.5 mm × 2.6 mm (25 Each)
Key Size 2 mm × 2.6 mm (25 Each)
Key Size 2 mm × 5 mm (25 Each)
Key Size 2.5 mm × 3.7 mm (25 Each)
Key Size 3 mm × 3.7 mm (25 Each)
Key Size 3 mm × 6.5 mm (25 Each)
Key Size 4 mm × 5 mm (25 Each)
Key Size 4 mm × 7.5 mm (25 Each)
Key Size 5 mm × 7.5 mm (20 Each)
Key Size 5 mm × 9 mm (20 Each)
Key Size 5 mm × 10 mm (15 Each)
Key Size 6 mm × 7.5 mm (15 Each)
Key Size 6 mm × 9 mm (15 Each)
Key Size 6 mm × 11 mm (15 Each)
Key Size 8 mm × 11 mm (15 Each)
Key Size 8 mm × 13 mm (15 Each)
Key Size 10 mm × 13 mm (10 Each)
Key Size 10 mm × 16 mm (10 Each)
Plastic Box
000000000
000000

Zinc-Plated

1008-1045

Carbon Steel

250
Key Numbers 1, 4, 8, 211, 213 (10 Each)
Key Numbers 2, 3, 7, 9, 212 (20 Each)
Key Number 5 (30 each)
Key Number 6 (40 Each)
Key Numbers A, 10, 11, 12, 61, 91 (5 Each)
Plastic Box
000000000
000000

Zinc

Yellow-Chromate

Plated

1008-1045

Carbon Steel

70
Key Size 2 mm × 3.7 mm (5 Each)
Key Size 3 mm × 3.7 mm (8 Each)
Key Size 3 mm × 5 mm (8 Each)
Key Size 4 mm × 5 mm (6 Each)
Key Size 4 mm × 6.5 mm (6 Each)
Key Size 5 mm × 6.5 mm (4 Each)
Key Size 5 mm × 7.5 mm (6 Each)
Key Size 5 mm × 9 mm (6 Each)
Key Size 6 mm × 9 mm (8 Each)
Key Size 6 mm × 11 mm (4 Each)
Key Size 8 mm × 11 mm (5 Each)
Key Size 8 mm × 13 mm (4 Each)
Plastic Box
000000000
000000

316 Stainless Steel

66
Key Numbers 1, 2, 3, 211, 212, 213 (5 Each)
Key Numbers 5, 6, 7, 8, 9, 61, 91 (4 Each)
Key Numbers 11, A (3 Each)
Key Number 15 (2 Each)
Plastic Box
000000000
000000