Ridgid Metal Pipe Cutters

One Wheel
with One Handle

One Wheel
with Two Handles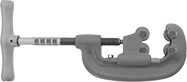 Four Wheels with One Handle

Four Wheels with Two Handles

Replacement Cutting Wheel

Replacement Roller Set

Replacement Pin and Clip Set
These heavy duty cutters have an iron frame for exceptional durability.
One-wheel cutters require a 360° turn for a complete cut.
Four-wheel cutters require only a 180° turn to make a 360° cut.
Two-handle cutters are for two-person operation.
Ridgid Number 202 cutter has extra-wide rollers to resist wobbling and make straight, clean cuts.
Replacement Parts and Accessories for Ridgid Pipe and Conduit Threaders
Add or replace parts such as power drives, die sets, and die heads on Ridgid Pipe and Conduit Threaders.

Cutter Wheel
Reamers for
Taper-Pipe

Holes

Use these reamers before tapping with taper-pipe taps. Turn by hand with a straight-handle tap wrench (sold separately). Flutes have a left-hand spiral and a right-hand cut and push chips downward, so they are commonly used in through holes.
For technical drawings and 3-D models, click on a part number.
For
Pipe
Size

(A)

(B)

Square
Shank
Size
Flute
Overall
Number
of
Flutes
Flute
Style
Spiral
Cut
Cutting


Dia.


Tolerance
For
Use
On
Each

1/8

0.3620"
0.3160"
0.3280"

3/4

"
2

1/8

"
6
Spiral
Left Hand
Right Hand
-0.001" to 0.001"
Aluminum, Brass, Bronze, Iron, Plastic, Stainless Steel, Steel
0000000
000000

1/4

0.4720"
0.4060"
0.4210"
1

1/16

"
2

7/16

"
6
Spiral
Left Hand
Right Hand
-0.001" to 0.001"
Aluminum, Brass, Bronze, Iron, Plastic, Stainless Steel, Steel
0000000
00000

3/8

0.6060"
0.5400"
0.5310"
1

1/16

"
2

9/16

"
6
Spiral
Left Hand
Right Hand
-0.001" to 0.001"
Aluminum, Brass, Bronze, Iron, Plastic, Stainless Steel, Steel
0000000
00000

1/2

0.7510"
0.6650"
0.5150"
1

3/8

"
3

1/8

"
6
Spiral
Left Hand
Right Hand
-0.001" to 0.001"
Aluminum, Brass, Bronze, Iron, Plastic, Stainless Steel, Steel
0000000
00000

3/4

0.9620"
0.8760"
0.6790"
1

3/8

"
3

1/4

"
8
Spiral
Left Hand
Right Hand
-0.001" to 0.001"
Aluminum, Brass, Bronze, Iron, Plastic, Stainless Steel, Steel
0000000
000000
1

1.2120"
1.1030"
0.8430"
1

3/4

"
3

3/4

"
10
Spiral
Left Hand
Right Hand
-0.001" to 0.001"
Aluminum, Brass, Bronze, Iron, Plastic, Stainless Steel, Steel
0000000
000000