How to

Identify and Measure Fittings
Pipe size is an industry designation, not the actual size. View information about how to measure threaded and unthreaded pipe and pipe fittings.
About
Backflow-Prevention

Valves
Metal Barbed Hose Fittings for Chemicals and Petroleum
Made of 316 stainless steel, these fittings have the corrosion resistance to stand up to a wide variety of chemicals, as well as fuels, gasoline, and oils. To connect, slide the barbed end into plastic or rubber hose and secure with a clamp.
Adapters are also known as hose nipples; they adapt a barbed end to a threaded end.
Metric and UN/UNF (SAE Straight) male threads have a gasket to protect against leaks.
For technical drawings and 3-D models, click on a part number.
International Standard ISO
Minimal-Spill




Quick-Disconnect

Hose Couplings for Chemicals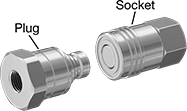 To minimize fluid loss when connecting and disconnecting your line, these couplings have flat faces for a close fit and shut-off valves to stop the flow—they meet ISO 16028, which is an international standard for hose couplings. They're also known as flush-face and double shut-off couplings. A complete coupling consists of a plug and socket (both sold separately). They connect and disconnect quickly, so use them if you need to access a line frequently. Made of 316 stainless steel, they have excellent corrosion resistance and withstand a variety of chemicals.
Plugs are also known as nipples.
Sockets are push-to-connect style. To connect, push the plug into the socket until you hear a click. To disconnect, slide the sleeve on the socket forward until the plug ejects. These sockets have an internal fluoroelastomer gasket that resists a wide range of chemicals, including benzene, butyl alcohol, and ethylene glycol.
Note: To ensure a correct fit, make sure that the plug and socket have the same coupling size. Pressure ratings are given for static (constant) pressure conditions.
Warning: Never attempt to connect or disconnect couplings when operating at maximum pressure. Stop the flow before you disconnect the line.
For technical drawings and 3-D models, click on a part number.
Pipeline Fluid Blockers

Also known as paddle blinds, these fit between two flanges to temporarily block the flow while you work downstream.
304 stainless steel blinds are more corrosion resistant than steel blinds.
For technical drawings and 3-D models, click on a part number.
PTFE-Coated 304 Stainless Steel