Selecting and Measuring Expansion Joints
Clamp-On

Expansion Joints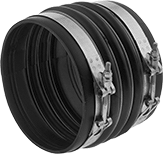 For Use

With:

Calcium

Chloride,

Oil,

Petroleum,

Sewage,

Sludge,

Sodium Carbonate

(20%

in

Water),

Water
Temperature

Range:


Neoprene

Rubber:

-20° to 220° F


Silicone

Rubber:

-75° to 500° F

Maximum

Pressure:

150

psi @

72° F

Maximum

Vacuum:

20

in.

of

Hg @

72° F
Slip these joints over your pipe ends and tighten the band clamps for a secure hold. Joints have a triple-bulb design that provides excellent vibration absorption to reduce stress on your piping system. They also have reinforcing rings for extra support during pressure surges and in vacuum applications.
Neoprene rubber joints are more abrasion resistant than silicone rubber joints.
For technical drawings and 3-D models, click on a part number.
For
Pipe
OD
Pipe
Size

Lg.

Compression
Expansion
Offset
Expansion
Joint
Type
Reinforcement
Material
Band
Clamp
Material
Each

Neoprene Rubber

2

3/8

"
2

7"
1"

1/2

"
1

1/8

"
Triple Bulb
Nylon Plastic
300 Series Stainless Steel
0000000
0000000
2

7/8

"
2

1/2

7"
1"

1/2

"
1

1/8

"
Triple Bulb
Nylon Plastic
300 Series Stainless Steel
0000000
000000
3

1/2

"
3

7"
1"

1/2

"
1

1/8

"
Triple Bulb
Nylon Plastic
300 Series Stainless Steel
0000000
000000
4

1/2

"
4

7"
1"

1/2

"
1

1/8

"
Triple Bulb
Nylon Plastic
300 Series Stainless Steel
0000000
000000
5

9/16

"
5

7"
1"

1/2

"
1

1/8

"
Triple Bulb
Nylon Plastic
300 Series Stainless Steel
0000000
000000
6

5/8

"
6

7"
1"

1/2

"
1

1/8

"
Triple Bulb
Nylon Plastic
300 Series Stainless Steel
0000000
000000
8

5/8

"
8

7"
1"

1/2

"
1

1/8

"
Triple Bulb
Nylon Plastic
300 Series Stainless Steel
0000000
000000
10

3/4

"
10

7"
1"

1/2

"
1

1/8

"
Triple Bulb
Nylon Plastic
300 Series Stainless Steel
0000000
000000
12

3/4

"
12

7"
1"

1/2

"
1

1/8

"
Triple Bulb
Nylon Plastic
300 Series Stainless Steel
0000000
000000

Silicone Rubber

2

3/8

"
2

7"
1"

1/2

"
1

1/8

"
Triple Bulb
Fiberglass
300 Series Stainless Steel
00000000
000000
2

7/8

"
2

1/2

7"
1"

1/2

"
1

1/8

"
Triple Bulb
Fiberglass
300 Series Stainless Steel
00000000
000000
3

1/2

"
3

7"
1"

1/2

"
1

1/8

"
Triple Bulb
Fiberglass
300 Series Stainless Steel
00000000
000000
4

1/2

"
4

7"
1"

1/2

"
1

1/8

"
Triple Bulb
Fiberglass
300 Series Stainless Steel
00000000
000000
5

9/16

"
5

7"
1"

1/2

"
1

1/8

"
Triple Bulb
Fiberglass
300 Series Stainless Steel
00000000
000000
6

5/8

"
6

7"
1"

1/2

"
1

1/8

"
Triple Bulb
Fiberglass
300 Series Stainless Steel
00000000
000000
8

5/8

"
8

7"
1"

1/2

"
1

1/8

"
Triple Bulb
Fiberglass
300 Series Stainless Steel
00000000
000000
10

3/4

"
10

7"
1"

1/2

"
1

1/8

"
Triple Bulb
Fiberglass
300 Series Stainless Steel
00000000
000000
12

3/4

"
12

7"
1"

1/2

"
1

1/8

"
Triple Bulb
Fiberglass
300 Series Stainless Steel
00000000
000000