How to

Identify and Measure Fittings
Pipe size is an industry designation, not the actual size. View information about how to measure threaded and unthreaded pipe and pipe fittings.
Extra-High-Polish

Metal

Quick-Clamp

Sanitary Tube Fittings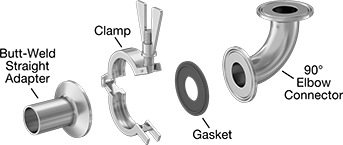 For Use

With:

Air,

Beverage,

Dairy,

Deionized

Water,

Food,

Pharmaceuticals,

Water
Temperature

Range:

See Gaskets

Tubing:




Fittings:

Use with

316/316L

stainless steel that meets ASTM A269 or ASTM A270


Gaskets:

Use with

304/304L

and

316/316L

stainless steel
Specifications

Met:

See table

Certification:

Material Certificate with Traceable Lot Number and Test Report
Polished to a 20 Ra finish, these fittings have an extra-smooth interior that prevents product buildup and inhibits bacteria growth. Use them in pharmaceutical and bioprocessing applications. Also known as tri-clamp fittings, they connect with a clamp, a gasket, and another quick-clamp fitting for a fast and easy way to access your line. Fittings are 316 stainless steel for excellent corrosion resistance.
The pressure rating of the fitting will depend on the clamp you choose.
The temperature rating of the fitting will vary depending on the gasket material you choose.
Note: To complete a connection, you'll need two quick-clamp fittings, a clamp, and a gasket (all sold separately).
For technical drawings and 3-D models, click on a part number.