How to

Identify and Measure Fittings
Pipe size is an industry designation, not the actual size. View information about how to measure threaded and unthreaded pipe and pipe fittings.
Low-Pressure

Press-Connect

Steel Unthreaded Pipe Fittings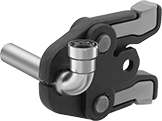 For Use

On:


EPDM Rubber O-

Ring:

Ethylene

Glycol,

Propylene

Glycol,

Water
Buna-N Rubber O-

Ring:

Air,

Lubricants,

Propane,

Fuel

Oil,

Natural

Gas,

Diesel Fuel
Specifications

Met:


EPDM Rubber O-

Ring:

ASME

B31,1,

ASME

B31.3,

ASME

B31.9,

FM

1920,

UL 213
Buna-N Rubber O-

Ring:

ASME

B31.1,

ASME

B31.3,

ASME

B31.9,

ANSI

LC4/CSA

6.32,

International Fuel Gas Code
Maximum

Pressure:


EPDM Rubber O-

Ring:

200

psi @

72° F


Buna-N Rubber O-

Ring:

125

psi @

72° F

Pipe Nipples and

Pipe:

Use Schedule 40 Steel

Flanges:

Use Class 150 Steel
Crimp these fittings onto steel pipe to form a tightly sealed connection that's faster than threading or welding and doesn't require heat. An internal gripping ring and rubber O-ring create a secure seal when crimped. They are designed to leak if fittings have not been crimped; a colored dot marks the leak path so it's easy to spot unsealed connections. These steel fittings are coated in zinc-nickel to resist corrosion, but will rust if frequently exposed to saltwater or harsh chemicals. They are comparable to Viega MegaPress steel fittings.
Fittings meet ANSI/ASME B31 code requirements for use in pressure piping systems.
Buna-N rubber O-rings hold up to natural gas, propane, diesel fuel, lubricants, and other oils. Fittings with these O-rings are often used in fuel gas systems and air lines. They meet the ANSI LC4/CSA 6.32 standard for fuel gas systems and comply with the International Fuel Gas Code.
Connectors with center stop have a small internal ridge that prevents the pipe from sliding too far into the fitting. Insert the pipe on each side of the connection up to the center stop to ensure a tight seal.
Unions separate into three pieces. Unscrew and remove the center nut for quick access to a line.
Bolt two same-size flanges together with a gasket (sold separately) to create a removable connection to valves, pumps and other equipment.
For technical drawings and 3-D models, click on a part number.