How to

Identify and Measure Fittings
Pipe size is an industry designation, not the actual size. View information about how to measure threaded and unthreaded pipe and pipe fittings.
Low-Pressure

Press-Connect

Stainless Steel Unthreaded Pipe Fittings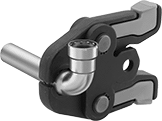 For Use

With:


304 Stainless

Steel:

Air,

Ethylene

Glycol,

Propylene

Glycol,

Water,

Diesel

Fuel,

Fuel Oil
316 Stainless

Steel:

Drinking

Water,

Isopropyl

Alcohol,

Nitric Acid

(10%),

Phosphoric Acid

(25%),

Deionized

Water,

Anhydrous Ammonia
Maximum

Pressure:


304 Stainless

Steel:

125

psi @

72° F


316 Stainless

Steel:

200

psi @

72° F

Specifications

Met:


304 Stainless

Steel:

ASME

B31.1,

ASME

B31.3,

ASME

B31.

9
316 Stainless

Steel:

ASME

B31.1,

ASME

B31.3,

ASME

B31.9,

NSF/ANSI

61,

NSF/ANSI 372

O-

Ring

Material:


304 Stainless

Steel:

Fluoroelastomer Rubber
316 Stainless

Steel:

EPDM Rubber
Pipe Nipples and

Pipe:

Use Schedule

10,

40 Stainless Steel

Flanges:

Use Class 150 Stainless Steel
Press these fittings onto stainless steel pipe using a crimping tool for a permanent, leak-tight connection that's faster than threading or welding and doesn't require heat. Fittings have an internal stainless steel gripping ring and rubber O-ring that create a seal when crimped. They are designed to leak if fittings have not been crimped; a colored dot marks the leak path so it's easy to spot unsealed connections. These fittings are comparable to Viega MegaPress fittings.
Fittings meet ANSI/ASME B31 code requirements for use in pressure piping systems.
316 stainless steel fittings stand up to harsh environments with constant exposure to chemical solutions. They meet NSF/ANSI Standard 61 for use with drinking water, and are often found on water and chemical processing lines in corrosive environments.
Connectors with center stop have a small internal ridge that prevents the pipe from sliding too far into the fitting and taking space from the pipe on the other side. Insert the pipe on each side of the connection up to the center stop to ensure a reliable seal.
Union straight connectors separate into three pieces. Unscrew and remove the center nut for quick access to a line.
Bolt two same-size flanges together with a gasket (sold separately) to create an access point within a line.
For technical drawings and 3-D models, click on a part number.