Cable Saws for PVC Pipe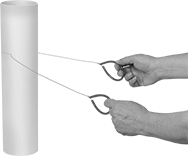 Melt through irrigation, plumbing, and electrical grade PVC pipe with heat friction. The cutting cable is flexible stainless steel without teeth. Use this saw in hard-to-reach areas.
Overall
Cable
For Pipe


Dia.

Material
Handle
Material
Flexibility
Each
32"
24"
Up to 8"
Stainless Steel
Rubber
Flexible
00000000
00000
Handsaws for Plastic

A blade made of carbon steel cuts plastic pipe, plasterboard, and plywood.
For
Blade


Lg.

Overall


Lg.

Handle
Material
Blade
Replaceable
Blade
Included
Includes
Features
Each

Pkg.




Qty.

Pkg.

12"
16"
Aluminum
Yes
Yes
One 12" Lg. Carbon Steel Blade for Plastic and Wood (10 Teeth per Inch)
Level
0000000
000000
1
0000000
000000
18"
22"
Aluminum
Yes
Yes
One 18" Lg. Carbon Steel Blade for Plastic and Wood (10 Teeth per Inch)
Level
0000000
00000
1
0000000
00000