Slippery UHMW Polyethylene
Sheets,

Bars,

and Strips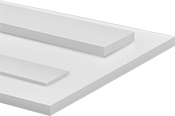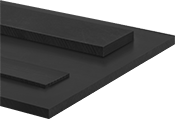 In addition to having a low-friction surface that prevents sticking and binding, this tough, impact- and wear-resistant material handles the scuffs, scrapes, and strikes that other plastics can't. These sheets, bars, and strips are often used to make machine guards and chute liners. They are all FDA compliant for direct food contact.
If you don't see the size of white sheet you're looking for, please specify length and width under additional white sheet sizes.
For technical drawings and 3-D models, click on a part number.
Temperature

Range:

-40° to 180° F

Tensile

Strength:

4,350-5,

800 psi

(Poor)

Impact

Strength:

16.

8

ft.

-

lbs./in.

(Excellent)

Hardness:

Durometer

65D-67D

(Medium)

For Use

Outdoors:

No
Specifications

Met:




White:

ASTM

D4020,

ASTM

D4976,

ASTM

D6712,

FDA Compliant 21 CFR

177.1520,

FDA Compliant 21 CFR

178.2010,

FDA Compliant 21 CFR

178.

3297


Black:

ASTM

D4020,

FDA Compliant 21 CFR

177.1520,

FDA Compliant 21 CFR

178.2010,

FDA Compliant 21 CFR

178.3297,

UL 94 HB