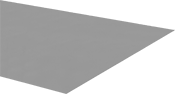 This shim stock is color-coded by thickness for easy identification. Cut it into custom shapes to fit your application. Shim stock is corrosion resistant. Sheets come flat packed.
Painted aluminum shim stock is stronger than plastic stock. It includes a material certificate with traceable lot number and test report.
For technical drawings and 3-D models, click on a part number.
Thick.

Thick.


Tolerance
Color
Material

Min.


Hardness
Temper
Rating
Magnetic
Properties
Each

Sheet

0.002"
-0.0002" to 0.0002"
Red
Painted 1200 Aluminum
Brinell 32

1/2

Hard to Full Hard
Nonmagnetic
0000000
00000
0.003"
-0.0003" to 0.0003"
Green
Painted 1200 Aluminum
Brinell 32

1/2

Hard to Full Hard
Nonmagnetic
0000000
0000
0.005"
-0.0005" to 0.0005"
Blue
Painted 1200 Aluminum
Brinell 32

1/2

Hard to Full Hard
Nonmagnetic
0000000
0000
0.002"
-0.0002" to 0.0002"
Red
Painted 1200 Aluminum
Brinell 32

1/2

Hard to Full Hard
Nonmagnetic
0000000
00000
0.003"
-0.0003" to 0.0003"
Green
Painted 1200 Aluminum
Brinell 32

1/2

Hard to Full Hard
Nonmagnetic
0000000
00000
0.005"
-0.0005" to 0.0005"
Blue
Painted 1200 Aluminum
Brinell 32

1/2

Hard to Full Hard
Nonmagnetic
0000000
00000