Easy-to-Form

Marine-Grade

5086 Aluminum Sheets and Bars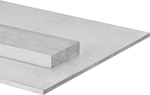 Yield

Strength:

28,

000 psi

Hardness:

Not Rated

Temper:

H32 (

1/4

Hard)

Fabrication:

Cold Worked
Specifications

Met:

ASTM B209
5086 aluminum is used on ships, oil rigs, tanks, and pressure vessels because of its excellent saltwater resistance and formability.
For technical drawings and 3-D models, click on a part number.

Certificates with a traceable lot number are available for these products. Download certificates from ORDER HISTORY after your order ships.
Thick.

Thick.


Tolerance

2"




× 24"

4"




× 24"

6"


× 6"

6"




× 12"

6"




× 24"

12"


× 12"

12"


× 24"

24"


× 24"

24"


× 48"

48"




× 48"

0.063"
-0.003" to 0.003"
0000000
0.090"
-0.005" to 0.005"
0000000
0.125"
-0.006" to 0.006"
0000000
0.190"
-0.009" to 0.009"
0000000
0.250"
-0.015" to 0.015"
0000000
0.375"
-0.017" to 0.017"
0000000
0.500"
-0.023" to 0.023"
0000000
0.750"
-0.031" to 0.031"
0000000
1.000"
-0.039" to 0.039"
0000000