High-Strength

6013 Aluminum Sheets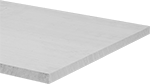 Yield

Strength:

50,

000 psi

Hardness:

Brinell 120

(Medium)

Temper: T651

Fabrication:

Hot Rolled
As the strongest multipurpose aluminum we offer, 6013 aluminum has the same good corrosion resistance, weldability, and machinability as 6061 with increased strength. 6013 is often fabricated into high-stress machine parts. It's comparable to high-strength 7075 aluminum, except 6013 is more corrosion resistant and weldable.
For technical drawings and 3-D models, click on a part number.

Certificates with a traceable lot number are available for these products. Download certificates from ORDER HISTORY after your order ships.
Thick.

Thick.


Tolerance
Heat
Treatment
Specifications
Met

2"




× 12"

2"




× 36"

3"




× 12"

4"




× 12"

6"




× 12"

8"




× 8"

12"


× 12"

18"




× 18"

24"


× 24"

1/2

"
0.000" to 0.036"
Hardened
ASTM B209
0000000

3/4

"
0.000" to 0.037"
Hardened
ASTM B209
0000000
1"
-0.003" to 0.077"
Hardened
ASTM B209
0000000
2"
0.000" to 0.090"
Hardened
ASTM B209
0000000