Fatigue-Resistant

7050 Aluminum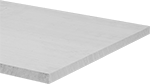 Yield

Strength:

68,

000 psi

Hardness:

Not Rated

Temper: T7451

Fabrication:

Cold Rolled
Specifications

Met:

ASTM

B594,

SAE AMS4050
Substitute 7050 aluminum for 7075 in structural applications when high stress-corrosion resistance is required. It is the same material that's used for bulkheads and fuselage frames. These sheets are ultrasonically inspected (USI) for defects below the surface as per ASTM B594.
For technical drawings and 3-D models, click on a part number.

Certificates with a traceable lot number are available for these products. Download certificates from ORDER HISTORY after your order ships.
Thick.

Thick.

Tolerance
Heat
Treatment
6"

× 6"

12"

× 12"

1/2

"
-0.028" to 0.028"
Hardened
0000000

3/4

"
-0.037" to 0.037"
Hardened
0000000
1"
-0.039" to 0.039"
Hardened
0000000
1

1/4

"
-0.039" to 0.039"
Hardened
0000000
1

1/2

"
-0.039" to 0.039"
Hardened
0000000
1

3/4

"
-0.055" to 0.055"
Hardened
0000000
2"
-0.055" to 0.055"
Hardened
0000000
2

1/4

"
-0.055" to 0.055"
Hardened
0000000
2

1/2

"
-0.075" to 0.075"
Hardened
0000000
2

3/4

"
-0.075" to 0.075"
Hardened
0000000
3"
-0.075" to 0.075"
Hardened
0000000