Ultra-High-Strength

Poly Chain Timing Belts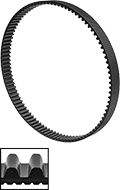 Strong enough to replace roller chain, these timing belts combine the high strength of a curved tooth with high-strength carbon fiber reinforcement. Belts are abrasion-resistant urethane, so they don't create dust while they run. They have carbon fiber reinforcement, which has ultra-high-strength, low stretch, and excellent shock resistance. The teeth are nylon coated to protect the wear surface and minimize friction.
For technical drawings and 3-D models, click on a part number.
Belt Trade
Number
Manufacturer
Equivalent Number
Outer


Circle,

mm
Number
of Teeth

Pitch,


mm
Material
Color
Temperature


Range,

°F

Each
416-8M-12
Gates Poly Chain GT
416
52
8
Urethane
Black
-65° to 185°
00000000
000000
640-8M-12
Gates Poly Chain GT
640
80
8
Urethane
Black
-65° to 185°
00000000
00000
720-8M-12
Gates Poly Chain GT
720
90
8
Urethane
Black
-65° to 185°
0000000
00000
800-8M-12
Gates Poly Chain GT
800
100
8
Urethane
Black
-65° to 185°
00000000
00000
896-8M-12
Gates Poly Chain GT
896
112
8
Urethane
Black
-65° to 185°
00000000
00000
1000-8M-12
Gates Poly Chain GT
1,000
125
8
Urethane
Black
-65° to 185°
00000000
00000
1040-8M-12
Gates Poly Chain GT
1,040
130
8
Urethane
Black
-65° to 185°
00000000
00000
1120-8M-12
Gates Poly Chain GT
1,120
140
8
Urethane
Black
-65° to 185°
00000000
00000
1200-8M-12
Gates Poly Chain GT
1,200
150
8
Urethane
Black
-65° to 185°
00000000
00000
1280-8M-12
Gates Poly Chain GT
1,280
160
8
Urethane
Black
-65° to 185°
00000000
00000
1440-8M-12
Gates Poly Chain GT
1,440
180
8
Urethane
Black
-65° to 185°
00000000
00000
1600-8M-12
Gates Poly Chain GT
1,600
200
8
Urethane
Black
-65° to 185°
00000000
000000
1760-8M-12
Gates Poly Chain GT
1,760
220
8
Urethane
Black
-65° to 185°
00000000
000000
1792-8M-12
Gates Poly Chain GT
1,792
224
8
Urethane
Black
-65° to 185°
00000000
000000
2000-8M-12
Gates Poly Chain GT
2,000
250
8
Urethane
Black
-65° to 185°
00000000
000000
2240-8M-12
Gates Poly Chain GT
2,240
280
8
Urethane
Black
-65° to 185°
00000000
000000
416-8M-21
Gates Poly Chain GT
416
52
8
Urethane
Black
-65° to 185°
00000000
00000
640-8M-21
Gates Poly Chain GT
640
80
8
Urethane
Black
-65° to 185°
00000000
00000
720-8M-21
Gates Poly Chain GT
720
90
8
Urethane
Black
-65° to 185°
00000000
000000
800-8M-21
Gates Poly Chain GT
800
100
8
Urethane
Black
-65° to 185°
00000000
000000
896-8M-21
Gates Poly Chain GT
896
112
8
Urethane
Black
-65° to 185°
0000000
000000
1000-8M-21
Gates Poly Chain GT
1,000
125
8
Urethane
Black
-65° to 185°
00000000
000000
1040-8M-21
Gates Poly Chain GT
1,040
130
8
Urethane
Black
-65° to 185°
00000000
000000
1120-8M-21
Gates Poly Chain GT
1,120
140
8
Urethane
Black
-65° to 185°
00000000
000000
1200-8M-21
Gates Poly Chain GT
1,200
150
8
Urethane
Black
-65° to 185°
00000000
000000
1280-8M-21
Gates Poly Chain GT
1,280
160
8
Urethane
Black
-65° to 185°
00000000
000000
1440-8M-21
Gates Poly Chain GT
1,440
180
8
Urethane
Black
-65° to 185°
00000000
000000
1600-8M-21
Gates Poly Chain GT
1,600
200
8
Urethane
Black
-65° to 185°
00000000
000000
1760-8M-21
Gates Poly Chain GT
1,760
220
8
Urethane
Black
-65° to 185°
00000000
000000
1792-8M-21
Gates Poly Chain GT
1,792
224
8
Urethane
Black
-65° to 185°
00000000
000000
2000-8M-21
Gates Poly Chain GT
2,000
250
8
Urethane
Black
-65° to 185°
00000000
000000
2240-8M-21
Gates Poly Chain GT
2,240
280
8
Urethane
Black
-65° to 185°
00000000
000000
416-8M-36
Gates Poly Chain GT
416
52
8
Urethane
Black
-65° to 185°
00000000
000000
1040-8M-36
Gates Poly Chain GT
1,040
130
8
Urethane
Black
-65° to 185°
00000000
000000
1200-8M-36
Gates Poly Chain GT
1,200
150
8
Urethane
Black
-65° to 185°
00000000
000000
1760-8M-36
Gates Poly Chain GT
1,760
220
8
Urethane
Black
-65° to 185°
00000000
000000
1792-8M-36
Gates Poly Chain GT
1,792
224
8
Urethane
Black
-65° to 185°
0000000
000000
2000-8M-36
Gates Poly Chain GT
2,000
250
8
Urethane
Black
-65° to 185°
00000000
000000
2240-8M-36
Gates Poly Chain GT
2,240
280
8
Urethane
Black
-65° to 185°
00000000
000000