Adhesive-Mount

Heaters for

Pails,

Drums,

and Tanks
Also known as heat sheets, these flexible heaters permanently adhere to container surfaces to warm contents without direct contact. They require a temperature switch or controller (sold separately) to regulate heat output.
Adhesive-back heaters have a pressure-sensitive adhesive. Heaters with a watt density of 5 watts per square inch are good for general purpose heating. For rapid warm-up and high-temperature applications, choose heaters with a watt density of 10 watts per square inch. Use heaters with a watt density of 20 watts per square inch for your highest-temperature applications, such as starting chemical reactions and altering the viscosity of warming liquids.
Note: Do not cut, crease, or overlap these heaters—this will damage the heating element. Use a roller during installation to remove air pockets and ensure direct surface contact. Once heaters have been applied to a surface, they cannot be removed and reused.
For technical drawings and 3-D models, click on a part number.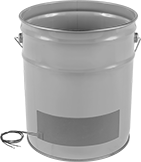 Lg.

Wd.

Wattage,


W
Voltage

Material
Environment


Temp.

Range,

°F

For Surface
Material
Each
1"
1"
5
28V AC
Polyimide Plastic
-40° to 300°
Fiberglass, Metal, Plastic
000000000
000000
2"

1/2

"
5
28V AC
Polyimide Plastic
-40° to 300°
Fiberglass, Metal, Plastic
000000000
00000
2"
1"
10
28V AC
Polyimide Plastic
-40° to 300°
Fiberglass, Metal, Plastic
000000000
00000
2"
2"
20
28V AC
Polyimide Plastic
-40° to 300°
Fiberglass, Metal, Plastic
000000000
00000
2"
2"
20
120V AC
Polyimide Plastic
-40° to 300°
Fiberglass, Metal, Plastic
000000000
00000
3"
1"
15
28V AC
Polyimide Plastic
-40° to 300°
Fiberglass, Metal, Plastic
000000000
00000
3"
3"
45
120V AC
Polyimide Plastic
-40° to 300°
Fiberglass, Metal, Plastic
000000000
00000
5"
1"
25
28V AC
Polyimide Plastic
-40° to 300°
Fiberglass, Metal, Plastic
000000000
00000
5"
1"
25
120V AC
Polyimide Plastic
-40° to 300°
Fiberglass, Metal, Plastic
000000000
00000
5"
2"
50
120V AC
Polyimide Plastic
-40° to 300°
Fiberglass, Metal, Plastic
000000000
000000
5

1/2

"
4"
110
120V AC
Polyimide Plastic
-40° to 300°
Fiberglass, Metal, Plastic
000000000
000000
5

1/2

"
5

1/2

"
151
120V AC
Polyimide Plastic
-40° to 300°
Fiberglass, Metal, Plastic
000000000
000000
11"
5

1/2

"
302
120V AC
Polyimide Plastic
-40° to 300°
Fiberglass, Metal, Plastic
000000000
000000
11"
10"
550
120V AC
Polyimide Plastic
-40° to 300°
Fiberglass, Metal, Plastic
000000000
000000

10

W/sq.

in.

Watt Density

1"
1"
10
28V AC
Polyimide Plastic
-40° to 300°
Fiberglass, Metal, Plastic
000000000
00000
2"

1/2

"
10
28V AC
Polyimide Plastic
-40° to 300°
Fiberglass, Metal, Plastic
000000000
00000
2"
1"
20
28V AC
Polyimide Plastic
-40° to 300°
Fiberglass, Metal, Plastic
000000000
00000
2"
2"
40
28V AC
Polyimide Plastic
-40° to 300°
Fiberglass, Metal, Plastic
000000000
00000
2"
2"
40
120V AC
Polyimide Plastic
-40° to 300°
Fiberglass, Metal, Plastic
000000000
00000
3"
1"
30
28V AC
Polyimide Plastic
-40° to 300°
Fiberglass, Metal, Plastic
000000000
00000
3"
1"
30
120V AC
Polyimide Plastic
-40° to 300°
Fiberglass, Metal, Plastic
000000000
00000
3"
3"
90
120V AC
Polyimide Plastic
-40° to 300°
Fiberglass, Metal, Plastic
000000000
00000
5"
1"
50
28V AC
Polyimide Plastic
-40° to 300°
Fiberglass, Metal, Plastic
000000000
00000
5"
1"
50
120V AC
Polyimide Plastic
-40° to 300°
Fiberglass, Metal, Plastic
000000000
00000
5"
2"
100
120V AC
Polyimide Plastic
-40° to 300°
Fiberglass, Metal, Plastic
000000000
000000
5

1/2

"
4"
220
120V AC
Polyimide Plastic
-40° to 300°
Fiberglass, Metal, Plastic
000000000
000000
5

1/2

"
5

1/2

"
302
120V AC
Polyimide Plastic
-40° to 300°
Fiberglass, Metal, Plastic
000000000
000000
11"
5

1/2

"
605
120V AC
Polyimide Plastic
-40° to 300°
Fiberglass, Metal, Plastic
000000000
000000
11"
10"
1,100
120V AC
Polyimide Plastic
-40° to 300°
Fiberglass, Metal, Plastic
000000000
000000

20

W/sq.

in.

Watt Density

1

1/2

"
1"
20
28V AC
Polyimide Plastic
-40° to 300°
Metal, Plastic
000000000
00000
2

1/2

"

1/2

"
20
28V AC
Polyimide Plastic
-40° to 300°
Metal, Plastic
000000000
00000
2

1/2

"
1"
40
28V AC
Polyimide Plastic
-40° to 300°
Metal, Plastic
000000000
00000
2

1/2

"
2"
80
28V AC
Polyimide Plastic
-40° to 300°
Metal, Plastic
000000000
00000
3

1/2

"
1"
60
28V AC
Polyimide Plastic
-40° to 300°
Metal, Plastic
000000000
00000
3

1/2

"
3"
180
120V AC
Polyimide Plastic
-40° to 300°
Metal, Plastic
000000000
000000
5

1/2

"
1"
100
28V AC
Polyimide Plastic
-40° to 300°
Metal, Plastic
000000000
00000
5

1/2

"
3"
300
120V AC
Polyimide Plastic
-40° to 300°
Metal, Plastic
000000000
000000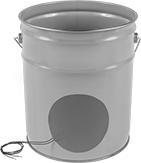 O'all




Dia.

Wattage,


W
Voltage

Material
Environment


Temp.

Range,

°F

For Surface Material
Each

10

W/sq.

in.

Watt Density

2"
31.4
120V AC
Polyimide Plastic
-40° to 300°
Fiberglass, Metal, Plastic
00000000
000000