About NEMA
Plugs,

Sockets,

and Receptacles
Hazardous Location
Straight-Blade

Plugs and Receptacles
Use connectors where ignitable gas and dust may be present. They are UL listed for Class I, Division 1 and 2, Groups C and D; Class II, Division 1 and 2, Groups F and G; and Class III hazardous environments.
Receptacles are compatible with both the NEMA 5-15 and 5-20 plugs.
Note: The current rating of your plug should not exceed that of your receptacle.
For technical drawings and 3-D models, click on a part number.
Three-Slot 60° Elbow Female Receptacles with Attached Cover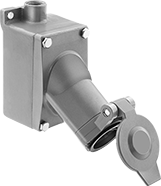 NEMA
Style
Voltage

Current
Wire
Connection
Type
Receptacle
Terminal
Location
Mounting
Location
Environment
Environmental
Rating
Color
Conduit
Thread
Type
Choose
a Conduit
Trade Size

Each

Grounded

5-20
125V AC
20A
Screw Terminals
Back
Surface
Hazardous Location, Outdoor
NEC Class I Divisions 1, 2 Groups C, D
NEC Class II Divisions 1, 2 Groups F, G
NEC Class III Divisions 1, 2
NEMA 3
NEMA 7
NEMA 9
NEC Zone 1 Groups IIB, IIA
Gray
NPT

0000000
0000000