How to

Identify and Measure Fittings
Pipe size is an industry designation, not the actual size. View information about how to measure threaded and unthreaded pipe and pipe fittings.
Press-Connect

Fittings for Copper Tubing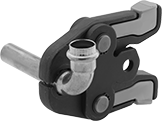 For Use

With:

Drinking Water
Maximum

Pressure:

200psi @

72° F

Temperature

Range:

0° to 250° F

Tubing:

Use with

K,

M,

L copper
Specifications

Met:

See table
Crimp these fittings to copper tubing with a crimping tool (sold separately). An O-ring on the inside of the fitting creates a leak-tight connection that doesn't require heat or soldering. They are comparable to Viega ProPress fittings. Fittings have good corrosion resistance. They meet NSF/ANSI safety standards for use with drinking water systems.
Straight adapters with flanged end bolt to equipment or other flanged connections found on pumps and valves to create a convenient access point.
Straight connectors with smooth interior are for use in tight spots when your line can't be moved. Unlike straight connectors with a stop, these slide onto tubing and can be moved up and down for easy positioning. They are also known as repair couplings.
Unions separate into three pieces for easy access to your line. Union adapters for galvanized steel threaded pipe join copper tubing to galvanized threaded connections on hot water heaters.
Inline tees are also known as branch tees. Right-angle tees are also known as run tees. Use inline and right-angle tee adapters to add lines or components, such as gauges, without additional fittings.
Crossover connectors route your line around existing pipe, tubing, or obstructions. By using one crossover instead of multiple elbows, you reduce the number of possible leak points in your line.
Copper tube size is the accepted designation of the copper tubing industry, not the actual tube OD.
For technical drawings and 3-D models, click on a part number.
Crimping Tools for
Press-Connect

Fittings for Copper Tubing
Create a leak-tight seal without using heat or solder. Slide copper tubing into a press-connect fitting and use these tools to crimp the connection.
Crimping tools seal the fitting in less than five seconds. Lightweight and cordless, you can take these tools to any job. Access your connection from any angle using the pivoting head.
Crimping tools come with two 2.5-amp-hrs.-capacity batteries. Upgrade to a 5-amp-hrs.-capacity battery for over 500 crimps per charge.