Electrical-Insulating

Sleeve Washers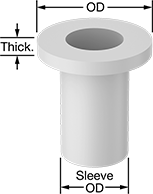 Also known as shoulder or insulator washers, these nonmetal washers block electrical current and prevent galvanic corrosion from mating different types of metal.
PTFE washers have excellent chemical resistance and a slippery surface that resists wear in high-friction applications.
For technical drawings and 3-D models, click on a part number.
For Screw
Size

ID
OD
Sleeve
OD

Thick.

Overall


Ht.

Min.

Max.

Hardness
Color

Pkg.




Qty.

Pkg.

PTFE Plastic

No. 2

0.091"
0.312"
0.125"
0.063"
0.125"
Not Rated
500°
Durometer 50D
White
5
000000000
00000
No. 4

0.115"
0.200"
0.136"
0.030"
0.060"
Not Rated
500°
Durometer 50D
White
5
000000000
00000
No. 6

0.140"
0.312"
0.187"
0.023"
0.062"
Not Rated
500°
Durometer 50D
White
5
000000000
00000
No. 8

0.169"
0.375"
0.265"
0.049"
0.094"
Not Rated
500°
Durometer 50D
White
5
000000000
00000
No. 10

0.193"
0.375"
0.252"
0.032"
0.064"
Not Rated
500°
Durometer 50D
White
5
000000000
00000

1/4

"

0.260"
0.545"
0.355"
0.049"
0.094"
Not Rated
500°
Durometer 50D
White
5
000000000
00000

3/8

"

0.385"
0.750"
0.500"
0.060"
0.120"
Not Rated
500°
Durometer 50D
White
5
000000000
00000