Taper-Lock

Bushing-Bore

V-Belt

Pulleys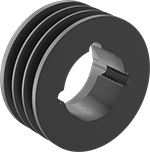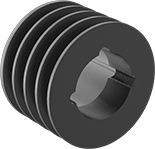 Mount these pulleys with a taper-lock bushing for a tight, wobble-free hold on your shaft. These pulleys transfer force from the shaft to a V-belt in a power transmission system, and also help with misalignment. Made of cast iron, these pulleys are durable and resist wear.
Depending on the taper-lock bushing you choose, the same pulley can be used with different shaft diameters.
For technical drawings and 3-D models, click on a part number.

No.

of
Grooves

OD,


mm
Pitch


Dia.,

mm

Wd.,


mm
Overall


Wd.,

mm
Groove


Dp.,

mm
For Bushing
Style
Material
Body
Type
Each
1
76.6
71
20
22
13.8
1108
Cast Iron
Solid
00000000
000000
1
90.6
85
20
25
13.8
1210
Cast Iron
Solid
00000000
00000
1
95.6
90
20
25
13.8
1210
Cast Iron
Solid
00000000
00000
1
100.6
95
20
25
13.8
1210
Cast Iron
Solid
00000000
00000
1
105.6
100
20
25
13.8
1610
Cast Iron
Solid
00000000
00000
1
123.6
118
20
25
13.8
1610
Cast Iron
Solid
00000000
00000
1
137.6
132
20
26.5
13.8
1610
Cast Iron
Solid
00000000
00000
1
155.6
150
20
25
13.8
1610
Cast Iron
Solid
00000000
00000
1
205.6
200
20
32
13.8
2012
Cast Iron
Solid
00000000
00000
2
72.6
67
35
35
13.8
1108
Cast Iron
Solid
00000000
00000
2
76.6
71
35
35
13.8
1108
Cast Iron
Solid
00000000
00000
2
85.6
80
35
35
13.8
1210
Cast Iron
Solid
00000000
00000
2
90.6
85
35
35
13.8
1210
Cast Iron
Solid
0000000
00000
2
95.6
90
35
35
13.8
1610
Cast Iron
Solid
00000000
00000
2
100.6
95
35
35
13.8
1610
Cast Iron
Solid
0000000
00000
2
105.6
100
35
35
13.8
1610
Cast Iron
Solid
00000000
00000
2
111.6
106
35
35
13.8
1610
Cast Iron
Solid
00000000
00000
2
130.6
125
35
35
13.8
1610
Cast Iron
Solid
00000000
00000
2
137.6
132
35
35
13.8
2012
Cast Iron
Solid
0000000
00000
2
145.6
140
35
35
13.8
2012
Cast Iron
Solid
00000000
00000
2
155.6
150
35
35
13.8
2012
Cast Iron
Solid
00000000
00000
2
165.6
160
35
35
13.8
2012
Cast Iron
Solid
00000000
00000
2
195.6
190
35
35
13.8
2012
Cast Iron
Solid
00000000
000000
3
76.6
71
50
50
13.8
1108
Cast Iron
Solid
00000000
00000
3
90.6
85
50
50
13.8
1210
Cast Iron
Solid
00000000
00000
3
95.6
90
50
50
13.8
1610
Cast Iron
Solid
00000000
00000
3
111.6
106
50
50
13.8
1610
Cast Iron
Solid
00000000
00000
3
123.6
118
50
50
13.8
2012
Cast Iron
Solid
00000000
00000
3
130.6
125
50
50
13.8
2012
Cast Iron
Solid
00000000
00000
3
145.6
140
50
50
13.8
2517
Cast Iron
Solid
00000000
000000
3
155.6
150
50
50
13.8
2517
Cast Iron
Solid
00000000
000000
3
165.6
160
50
50
13.8
2517
Cast Iron
Solid
00000000
000000
3
205.6
200
50
50
13.8
2517
Cast Iron
Solid
0000000
000000
4
95.6
90
65
65
13.8
1610
Cast Iron
Solid
00000000
00000
4
145.6
140
65
65
13.8
2517
Cast Iron
Solid
00000000
000000
4
155.6
150
65
65
13.8
2517
Cast Iron
Solid
00000000
000000