High-Strength

HTD Timing Belt Idler Pulleys
Keep high torque drive (HTD) timing belt systems running tightly with these idler pulleys. Made with built-in, free-spinning ball bearings, they're installed on shafts or belt tensioners (not included) to remove slack from timing belts. By maintaining tension on the belt, these pulleys reduce wear and vibration in 3D printing, machine tool drives, robotics, and other linear motion applications that require precise positioning.
When replacing an idler pulley, be sure the pulley matches your belt's trade size.
Toothed pulleys are shaped to mesh with the teeth on a timing belt, which reduces wear on the belt's teeth.
Smooth pulleys have no teeth; they're used with the smooth side of the belt.
Iron pulleys are strong and wear resistant, with a black oxide coating that protects them from corrosion in dry environments.
For technical drawings and 3-D models, click on a part number.

Toothed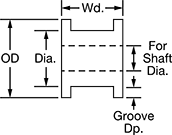 Manufacturer
Series
OD
Number
of
Teeth
For
Shaft


Dia.

Dia.

Wd.

Groove


Dp.

Shaft
Mount
Type
Bore
Type
Number
of
Flanges
Fabrication
Material
Bearing
Type
Each
Gates PowerGrip 2GT
15mm
20
5mm
12.22mm
10mm
1.39 mm
Slip Fit
Finished
2
Machined
Aluminum
Ball

0000000
00000
Gates PowerGrip 2GT
15mm
20
5mm
12.22mm
14mm
1.39 mm
Slip Fit
Finished
2
Machined
Aluminum
Ball

0000000
0000
Gates PowerGrip 2GT
15mm
20
5mm
12.22mm
16mm
1.39 mm
Slip Fit
Finished
2
Machined
Aluminum
Ball

0000000
0000
__
1.85"
19
1"
1.85"
1

5/16

"
__
Press Fit
Plain
__
Machined
Black-Oxide Iron
Needle Roller
0000000
00000

Smooth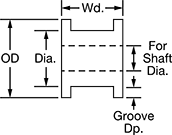 Manufacturer
Series

OD,


mm
For Shaft


Dia.,


mm

Dia.,


mm

Wd.,


mm
Groove


Dp.,


mm
Shaft
Mount
Type
Bore
Type
Number
of
Flanges
Fabrication
Material
Bearing
Type
Each
Gates PowerGrip 2GT
15
5
12
10
1.5
Slip Fit
Finished
2
Machined
Aluminum
Ball

0000000
00000
Gates PowerGrip 2GT
15
5
12
14
1.5
Slip Fit
Finished
2
Machined
Aluminum
Ball

0000000
0000
Gates PowerGrip 2GT
15
5
12
16
1.5
Slip Fit
Finished
2
Machined
Aluminum
Ball

0000000
0000