Timing Belt Idler Pulleys
Add these free-spinning pulleys to your timing belt setup to minimize vibration and keep belts from wearing out. The needle bearing at the center of these pulleys is lined with small, cylindrical rollers that reduce friction as they rotate. This bearing allows both the pulley and the shaft it's mounted on to spin independently. Made from iron or steel, these pulleys are strong and wear-resistant. The black oxide coating protects the pulleys from corrosion in dry environments.
Trapezoidal teeth on the outside of the pulley fit into teeth inside your timing belt—select a pulley that matches your belt trade size. The maximum belt width should be the same size or larger than the width of your timing belt.
Curved teeth have more surface contact with belts than traditional trapezoidal teeth, which allows you to apply more torque without damaging belts. These teeth fit together seamlessly to prevent backlash, or unwanted movement of the belt on the pulley, for a smooth, quiet cycle. They are also known as curvilinear belt pulleys.
For technical drawings and 3-D models, click on a part number.

Without Flanges

Without Flanges and with a Hub

Without Flanges and Without a Hub
For

Max.


Belt


Wd.

OD
Number
of
Teeth
Teeth
Shape
For
Shaft


Dia.

Pitch

Dia.

Bore
Type
Overall


Wd.

Pitch


Dia.

Fabrication
Material
Bearing
Type
Hub


Dia.

Each

For H Belt Trade Size

1"
2

1/2

"
16
Trapezoidal
1"
0.5"
2

1/2

"
Plain
1

1/8

"
2.546"
Machined
Black-Oxide Steel
Needle Roller
1.8"
0000000
000000
2"
2

1/2

"
16
Trapezoidal
1"
0.5"
2

1/2

"
Plain
2

1/8

"
2.546"
Machined
Black-Oxide Steel
Needle Roller
1.85"
0000000
00000
3"
2.8"
18
Trapezoidal
1"
0.5"
2

1/2

"
Plain
3

1/8

"
2.865"
Machined
Black-Oxide Iron
Needle Roller
1

3/4

"
0000000
00000

For L Belt Trade Size

1"
2.1"
18
Trapezoidal
1"
0.375"
2

1/8

"
Plain
1

1/8

"
2.149"
Machined
Black-Oxide Steel
Needle Roller
1

3/4

"
0000000
00000
1"
2.6"
22
Trapezoidal
1"
0.375"
2

19/32

"
Plain
1

1/8

"
2.626"
Machined
Black-Oxide Steel
Needle Roller
1

3/4

"
0000000
00000

For XL Belt Trade Size

1/2

"
1

1/2

"
24
Trapezoidal

1/2

"
0.2"
1

1/2

"
Plain

1/2

"
1.528"
Machined
Black-Oxide Steel
Needle Roller
1.21"
0000000
00000

3/4

"
1.4"
22
Trapezoidal

1/2

"
0.2"
1

3/8

"
Plain

3/4

"
1.401"
Machined
Black-Oxide Steel
Needle Roller
__
0000000
00000

With Two Flanges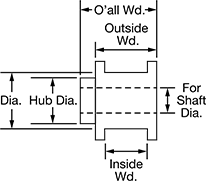 With Two Flanges and a Hub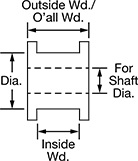 With Two Flanges and Without a Hub
For

Max.


Belt

Wd.,


mm

OD,


mm
Number
of
Teeth
Teeth
Shape

Pitch,


mm
For Shaft


Dia.,


mm

Dia.,


mm
Bore
Type
Inside


Wd.,


mm
Outside


Wd.,


mm
Overall


Wd.,


mm
Pitch


Dia.,


mm
Number
of
Flanges
Fabrication
Material
Bearing
Type
Hub


Dia.,


mm
Each

For GT Belt Trade Size

20
90
32
Curved
8
20
80.12
Plain
20
31.5
46.23
81.48
2
Machined
Black-Oxide Iron
Needle Roller
69.85
0000000
0000000
30
100
36
Curved
8
30
90.3
Plain
30
48
48
91.67
2
Machined
Black-Oxide Iron
Needle Roller
__
0000000
000000

For GT2 Belt Trade Size

21
90
32
Curved
8
20
79.88
Plain
21
31.5
45.97
81.48
2
Machined
Black-Oxide Iron
Needle Roller
69.85
0000000
000000
37
146
30
Curved
14
40
130.89
Plain
37
52.32
58.67
133.68
2
Machined
Black-Oxide Iron
Needle Roller
111
0000000
000000
62
100
36
Curved
8
30
90.07
Plain
62
73.91
91.19
91.67
2
Machined
Black-Oxide Iron
Needle Roller
79.5
0000000
000000