High-Speed

Vibration-Damping

Flexible Shaft Couplings

Components of a Coupling Shown Assembled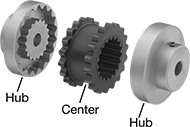 (Each
Component Sold
Separately)
Use these gear-shaped couplings for high-speed and high-torque applications. A rubber center allows flexing so couplings can take on multiple types of misalignment while damping vibration and shock. With no metal-to-metal contact, there's no need for lubrication. Fasten to your shafts by tightening the set screws, which bite into the shaft to hold it.
A complete coupling consists of two hubs and one center (each component sold separately).
Hubs have a keyway, except hubs for 1/4" and 3/8" shaft dia. do not have a keyway.
For technical drawings and 3-D models, click on a part number.
O'all




Lg.

OD
For
Motion
Type
Material
For
Shaft


Dia.

Each

Max.




Speed,


rpm

Max.




Torque,




in.-lbs.

Parallel
Angular
Axial

Temp.




Range,




°F

Material
Each
2"
2

1/16

"
Continuous
Sintered Steel
000000
000000
9,200
60
0.01"
1°
0.125"
-30° to 275°
TPE Rubber
0000000
00000
2

3/8

"
2

15/32

"
Continuous
Sintered Steel
000000
00000
7,600
120
0.01"
1°
0.125"
-30° to 275°
TPE Rubber
0000000
00000
2

13/16

"
3

1/4

"
Continuous
Cast Iron
0000000
00000
7,600
240
0.015"
1°
0.125"
-30° to 275°
TPE Rubber
0000000
00000
2

7/8

"
3

1/4

"
Continuous
Sintered Steel
0000000
00000
7,600
240
0.015"
1°
0.125"
-30° to 275°
TPE Rubber
0000000
00000
3

5/16

"
4"
Continuous
Sintered Steel
0000000
00000
6,000
450
0.015"
1°
0.125"
-30° to 275°
TPE Rubber
0000000
00000
3

1/2

"
4"
Continuous
Cast Iron
0000000
00000
6,000
450
0.015"
1°
0.125"
-30° to 275°
TPE Rubber
0000000
00000
3

15/16

"
4

5/8

"
Continuous
Cast Iron
000000
00000
5,250
725
0.02"
1°
0.125"
-30° to 275°
TPE Rubber
0000000
00000
4

7/16

"
5

29/64

"
Continuous
Cast Iron
0000000
00000
4,500
1,135
0.02"
1°
0.125"
-30° to 275°
TPE Rubber
0000000
00000
5

1/16

"
6

23/64

"
Continuous
Cast Iron
000000
000000
3,750
1,800
0.025"
1°
0.125"
-30° to 275°
TPE Rubber
0000000
00000
5

11/16

"
7

1/2

"
Continuous
Cast Iron
000000
000000
3,600
2,875
0.025"
1°
0.125"
-30° to 275°
TPE Rubber
0000000
00000
7

1/8

"
8

5/8

"
Continuous
Cast Iron
000000
000000
3,600
4,530
0.032"
1°
0.125"
-30° to 275°
EPDM Rubber
0000000
000000