Punch and Chisel Holders
Protect your hands from accidental hammer strikes by gripping punches and chisels with these holders.
Style A slides over your punch or chisel. Use with tools at least 6" long.
Styles B and C tighten when the handle is turned. Style C has a spring-loaded clamp and foam grip to reduce shock.
Styles D and E have a knob at the bottom of the handle for tightening. Style E also has a brass rivet to resist sparking.
Holders for Metal Stamps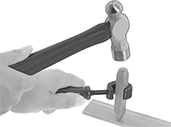 Ensure a firm grip on your stamp and keep your fingers away from stray blows. An adjustable ball lock secures the stamp in the holder. Strike stamps with a ball peen hammer.
Dia.

Wd.

Thick.

Overall


Lg.

Each

1/4

"-1"

3/16

"-

13/16

"

3/16

"-

13/16

"
8"
00000000
000000